The Semex Jersey On Farm Challenge is a competition which attracts a large number of competitors each year. Jersey NZ is very fortunate to have and acknowledges the support of Semex New Zealand as major sponsors of this competition.
Judged on-farm, a different Jersey NZ judge travels in December each year to view teams of animals put forward by members of all regions. At the conclusion of judging, the results are analysed by the Jersey NZ office, regional and overall winners confirmed and the results announced at the Jersey NZ AGM & conference at the Distinction Hotel, Whangarei on 6 June 2018.
If you have advanced to the finals at the conference your entry will be highlighted in blue.
Here are our 2017 results which were announced at the 2018 Jersey conference:


Semex sponsored product prizes
Semex has sponsored product prizes for the following winners:
Regional team winners receive $100 for first place
National team winners receive $300 for first, $200 for second
National conformation winners receive $300 for first, $200 for second (in each class).
Overall National Supreme Conformation winner receives $500
Overall National Supreme Semex Cow winner receives $500
Youth Competition
Youth prize for each age group class presented to the highest placed animal in each class with an owner aged 30 or less: $100 per class.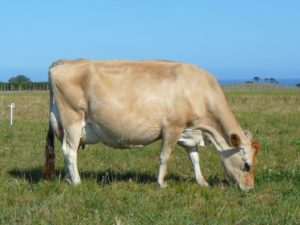 REGIONAL RESULTS NOVEMBER 2017
Results for Region 1 – Northland
Team
1     Totara Dale Farm (Trevor & Megan, Nick & Stephanie Browning)
2     Kaycee Farms Ltd (Kevin & Christine Tucker)
3     Waiteitei Jerseys (Graeme Collins)
Top 2 Year Old Conformation
1     Totara Dale Gun Nell – Totara Dale Farm Ltd
2    Glen Kaycee LT Butter – Kaycee Farms Ltd
3     Glen Kaycee CJG Ventura – Kaycee Farms Ltd
Top 3 Year Old Conformation
1      Totara Dale Speed Goddess – Totara Dale Farm Ltd
2=   Glen Kaycee Iceberg Hazel – Kaycee Farms Ltd
2=   Totara Dale Izzy Bobbin – Totara Dale Farm Ltd
Top 4 & 5 Year Old Conformation
1       Totara Dale TJV Carlotta – Totara Dale Farm Ltd
2      Totara Dale High Alee – Totara Dale Farm Ltd
3=    Glen Kaycee Elicit Hussy – Kaycee Farms Ltd
3=    Waiteitei MM Lass – Waiteitei Jerseys
Top 6, 7 & 8 Year Old Cow Conformation
1      Totara Dale KK Maud– Totara Dale Farm Ltd
2     Totara Dale Ace Goddess – Totara Dale Farm Ltd
3      Waiteitei Zealot Bellona – Waiteitei Jerseys
Top 9 Years & Older Cow Conformation
1       Totara Dale Meg Lite – Totara Dale Farm Ltd
2      Glen Kaycee Signature Kya – Kaycee Farms Ltd
3      Glen Kaycee Nimrods Edlyn – Kaycee Farms Ltd
Results for Region 2 – West Waikato
Team
1         Just Jerseys Ltd – Team 1 (N & J & R & E Riddell)
2         Mount Cosy Jerseys (Summit Farm (Otorohanga)
3         Riverina Jerseys (W & L Berry)
4         Tahau Jerseys (JM & KL Sneddon)
5         Just Jerseys Ltd – Team 2 (N & J & R & E Riddell)
Top 2 Year Old Conformation
1           Thornlea SP Leonie ET– Just Jerseys Ltd – Team 1
2           Ferdon Bstone Lacey – Ferdon Genetics
3=         Ferdon Celebrity Lily – Ferdon Genetics
3=         Tahau Bramzello – JM & KL Sneddon – Tahau
Top 3-Year-Old Conformation
1          Ferdon Bstone Lill – Ferdon Genetics
2          Ferdon Tequila Lanita – Corey Ferguson
3          Ferdon Tequila Starfinch – Corey Ferguson
Top 4 & 5 Year Old Conformation
1          Ferdon TBone Lorna – Ferdon Genetics        
2          Ferdon Bstone Lippy – Ferdon Genetics
3          Ferdon Legacy Faline – Corey Ferguson
Top 6, 7 & 8 Year Old Cow Conformation
1          Ferdon B Stone Rose – Ferdon Genetics
2          Ferdon Canada Sarah – Corey Ferguson
3          Roscliff Ivins Gilda ET – Just Jerseys Ltd – Team 2
Top 9 Years & Older Cow Conformation
1          Carnmor Laces Bonnie – Mount Cosy Jerseys
2=        Thornlea Jos Dolly – Just Jerseys Ltd – Team 2
2=        Ferdon Folly's Fashion – Ferdon Genetics
Results for Region 3 – East Waikato
Team
1         Upland Park Jerseys (A & N Walford)
2        Crescent Genetics (M & D Townshend)
3          Ngatea Jerseys ( B & J Pirie)
4         Two View Jerseys (G & C Vowles)
5          Green Leaf Farm (A & M Johnson)
6         Grahmar Jerseys (G & M Wallace)
Top 2 Year Old Conformation
1         Kauri Glen Comer Pegie ET– Tony Barton
2        Upland Park Audio Sun – Upland Park Jerseys
3         Upland Park KS Narissa – Upland Park Jerseys
Top 3 Year Old Conformation
1       Upland Park Bolt Macy S3J – Upland Park Jerseys
2      Denson Dale Vanahlem Clay– Denson Dale Jerseys
3      Calrenah Val Paula ET – Grahmar Jerseys
Top 4 & 5 Year Old Conformation
1           Upland Park OLI Vanya – Upland Park Jerseys
2          Shinarro Pioneer Ella ET – Ngatea Jerseys
3=        Upland Park HC Mari S3J – Upland Park Jerseys
3=        Denson Dale Vision Rion – Denson Dale Jerseys
Top 6, 7 & 8 Year Old Cow Conformation
1          Denson Dale Regio Pam S3J– Denson Dale Jerseys
2          Upland Park Sweet Velvet – Upland Park Jerseys
3          Paterangi Mans Mamme – Upland Park Jerseys
Top 9 Years & Older Cow Conformation
1           Denson Dale K B Vision – Denson Dale Jerseys
2           Lynbrook Mans Louise – Kevin Ireland
3           Denson Dale Vision Coral – Denson Dale Jerseys
Results for Region 4 – Lower North Island
Team
 1=        Lexland/Derriland Jerseys (A&G&D Tosland)
 1=        Merrifields Jerseys (R & J Gibson)
2          Kohitiata Jerseys (N & D Atkins)
3          Thornton Park (M & S Booth)
4         Te Awa Jerseys (P & D Capes)
5         Landell Holdings (L & K Williams)
Top 2 Year Old Conformation
1           Leithlea Charlie Fava– Leithlea Jerseys
2           Derriland WSM Charlie  – Lexland/Derriland Jerseys
3           Kohiti Degree Jenna – Kohitiata Jerseys
Top 3 Year Old Conformation
1          Landell Valentino Emes TW – Landell Holdings
2          Landell Valentin Emily TW – Landell Holdings
3          Thornton Park T Cassie – Thornton Park
4          Leithlea Charlie Angel – Leithlea Jerseys
Top 4 & 5 Year Old Conformation
1          Lexland VI Alwyn – Lexland/Derriland Jerseys
2          Leithlea Tequila Sheba – Leithlea Jerseys
3          Leithlea Govenor Sandi – Leithlea Jerseys
Top 6, 7 & 8 Year Old Cow Conformation
1          Leithlea Gannon Sun S2J – Leithlea Jerseys
2          Leithlea Qzik Vanity – Leithlea Jerseys
3=        Merrifields Got Pal – Thornton Park
3=        Philsan Supernova Dorcia – Lexland/Derriland Jerseys
Top 9 Years & Older Cow Conformation
1          Dunwald Desire Rubie – Leithlea Jerseys
2         Leithlea Futurity Rubie – Leithlea Jerseys
3         Kohiti Nimrods Tigris – Kohitiata Jerseys
Results for Region 5 – South Island
Team
1          Horopito Jerseys (G Ferguson)
2          Lynbroook Farm Ltd (S & N Ireland)
3          Cawdor Jeresys (F & C MacBeth)
4          Willowhaugh Jerseys (I & C Jordan)
Top 2 Year Old Conformation
1          Willowhaugh Reg Gemma – Willowhaugh Jerseys
2          Westbourne T Bone Yoko – Snowfed (P & A Gilbert)
3          Somerset OT Leader – Robbie Wakelin
4         Glenalla Deans Alexis S3J – Snowfed (P & A Gilbert)
5         Glenalla Deans Maddi – Snowfed – Nick Gilbert
Top 3 Year Old Conformation
1          Willowhaugh Tbone Flirt – Willowhaugh Jerseys
2          Glenalla Hired Lorna – Glenalla Farm (M Gilbert)
3=        Lynbrook Tific Fandance – Lynbrook farm
3=        Willowhaugh OT Feebee – Willowhaugh Jerseys
Top 4 & 5 Year Old Conformation
1          Glenalla Sultans Ekka– Snowfed (P & A Gilbert)
2          Glenalla Clip Frisky S3J – Glenalla Farm (M Gilbert)
3          Glenalla Murfs Immie S2J – Glenalla Farm (M Gilbert)
Top 6, 7 & 8 Year Old Cow Conformation
1          Glenalla Deans Laurie S1J – Snowfed (P & A Gilbert)
2          Glenalla Deans Rosa – Snowfed (P & A Gilbert)
3          Willowhaugh Tbone Vanessa – Willowhaugh Jerseys
4          Glenalla Time Gwido – Glenalla Farm (M Gilbert)
5          Glenalla Deans Tendo – Glenalla Farm (M Gilbert)
Top 9 Years & Older Cow Conformation
1          Glenalla LM Queen S3J – Snowfed (P & A Gilbert)
2          Willowhaugh Samual Verity – Willowhaugh Jerseys
3          Calrenah Green Beauty ET – Horopito Jerseys