The Jersey NZ Female Hall of Fame is an annual award handed out to only the best cows across the country. For a cow to be nominated for the award they must follow the below specifications:
Any cow that has been registered with JerseyNZ is eligible for nomination (current or historic)
JerseyNZ will appoint three Judges annually to consider nominations, these judges will be selected from a cross-section of JerseyNZ membership
5 finalists will be chosen and announced via e-mail, website and Facebook prior to Annual Conference
Up to 2 cows will be inducted annually into the JerseyNZ Female Hall of Fame at the Annual Conference Awards Night. This presentation will highlight the inductees and their accomplishments
Nomination reasons may include (but are not restricted to) high index; outstanding progeny; on farm results; show results; great cow family; any other accomplishment worthy of consideration.
Any nomination will stay active for the next two years if the cow is not inducted into the Hall of Fame within that time
Members do not need to be the owner of a cow to nominate her
---
Inducted into the Hall of Fame 2022:
Okura Admirals Iris
Glanton Mans Blanche
---
The NZ Hall of Fame awards were presented at the Annual Conference, held in Invercargill in March 2023. The six finalists are listed below, followed with the two cows inducted to the Hall of Fame:
2023 Finalists
Kaitaka TGM Leonie – nominated by Des Hickey
Ferdon Comerica Viyella – nominated by Luke Gilbert
Glenui Integrity Lace ET – nominated by Tony Landers
Carrondale Apexs Petrina – nominated by Jo Davies
Ferdon Follys Viyella – nominated by Michelle Ferguson
---
Inducted into the Hall of Fame 2023:
Ferdon Follys Viyella
Glenui Integrity Lace ET
---
Ferdon Follys Viyella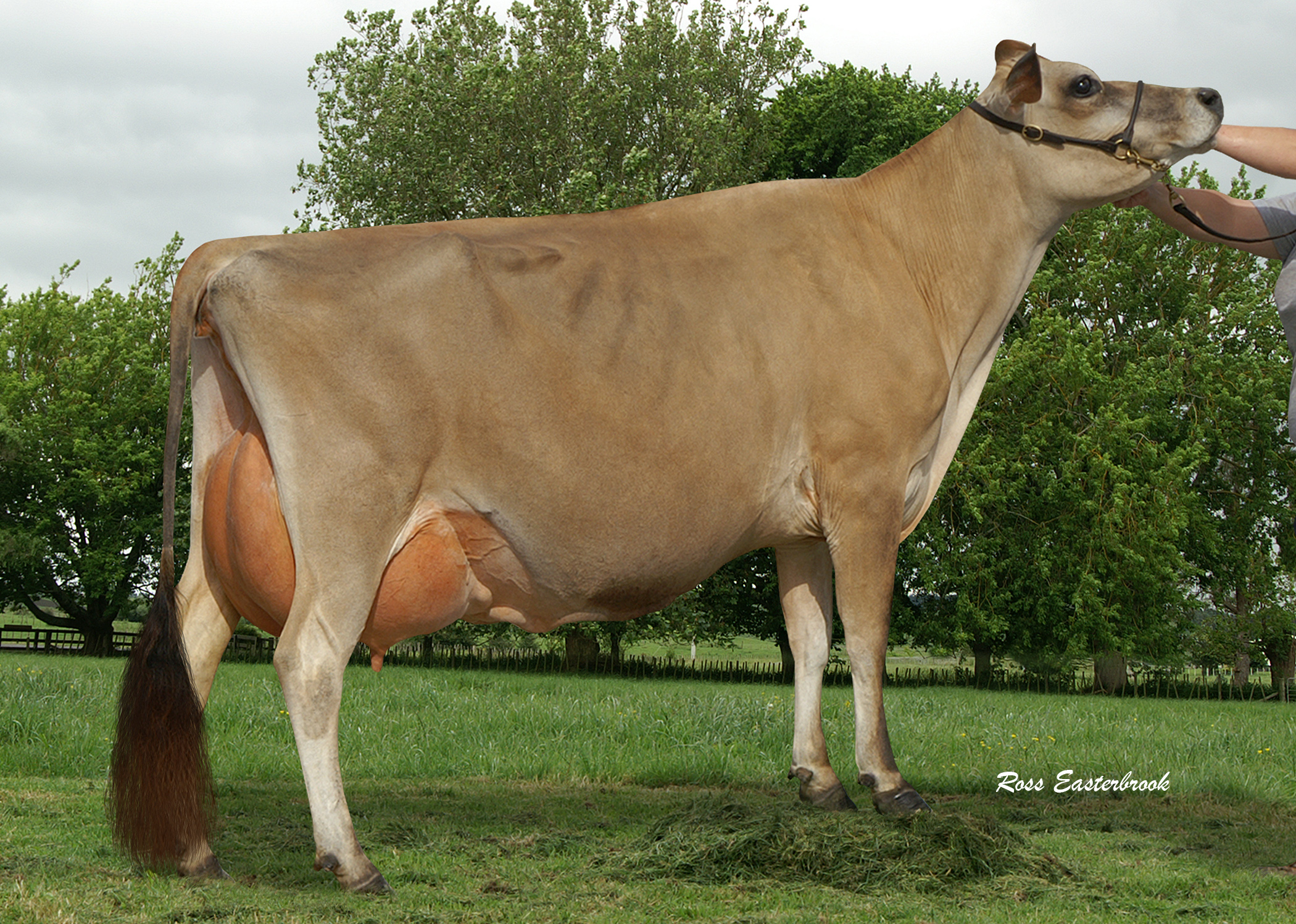 Born in 2004 and to date is still at Ferdon Genetics in Otorohanga. Viyella has a BW of 768, she has done 10 lactations with a total of 10,230 litres and 5,700 milksolids.
She is affectionally known at Ferdon as 'Folly' and has had a prolific show career, winning North Island Champion in 2010, Reserve Champion New Zealand Dairy Event (NZDE) 2010, Supreme All Breeds Champion Northern Wairoa 2010. Senior Jersey Champion NZDE 2012 and her daughter won the Intermediate Jersey Champion and beat her for Supreme Jersey 2012.
She has 11 daughters whom are all EX, seven of these daughters were natural calves. Of these daughters, the most well-known is Ferdon Comerica Viyella, who was Supreme Champion Jersey five times and three times Supreme All Breeds at New Zealand Dairy Event, also Queen of the Decade at NZDE and was the highest producing cow for New Zealand.
Many accolades have been achieved by her other daughters as well as her great granddaughter, Ferdon BStone Venice achieving Intermediate Champion Waikato 2022, Intermediate Reserve North Island Champion 2022 and 1st place 3 yr NZDE 2023.
Ferdon Follys Viyella has stamped her mark as one of Ferdons Matriarchs well and truly with the progeny that just keeps coming not only in the show ring but also with Production and Reproduction. But all of this is no surprise with cow family she comes from, which includes Ferdon Glen's Vickie herself a noted Champion and Production Cow, and with 18 Generations back to Lady Viola.
---
Glenui Integrity Lace ET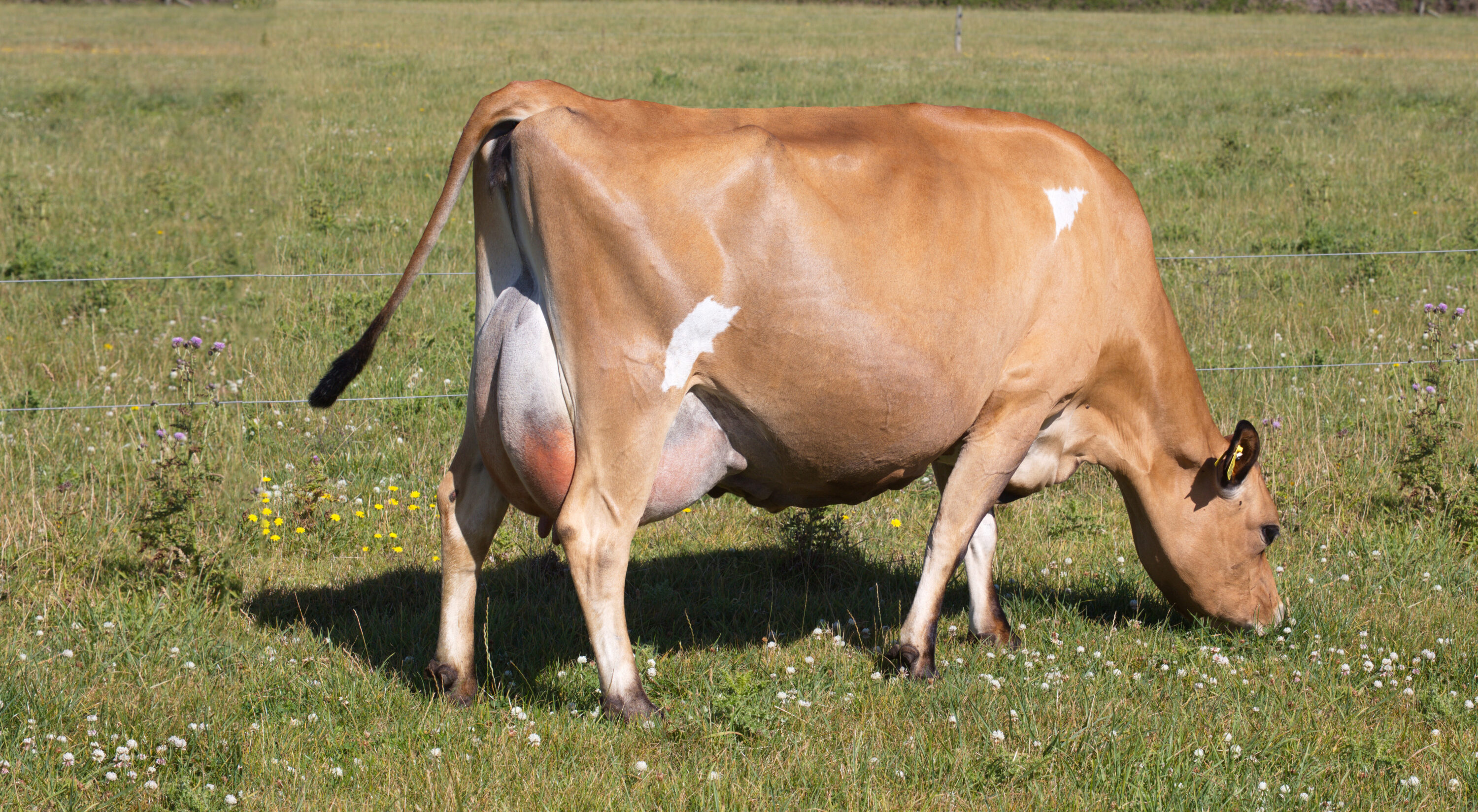 Born in 2012, Glenui Integrity Lace was the results of the first ever ET work the Tony and Lesley Landers had done, sired by a young Genomic bull, Okura LT Integrity, out of Glenui Nevys Lacy. Lacy was not contracted, but a very good production cow. Lace's BW is 409 and has produced over 450kgs MS every lactation with three lactations of greater than 660kgs MS.
Perhaps her greatest achievement is her progeny, with seven sons taken into Breeding companies. Four sons graduated in 2022 and they were in the top 20 sires on the RAS list of April 2022. Possibly the first time a cow has had 4 sons in the top 20:
Glenui BC Laredo ET S3J – BW: 494 (2022 BW)
Glenui Super Larkin ET – BW: 494 (2022 BW)
Glenui SS Liam ET S3J – BW: 453 (2022 BW)
Glenui Super Laird ET – BW: 437 (2022 BW)
She has also produced numerous daughters, all have been contracted by AB companies. She is the granddam of 13 bulls, most are still in sire proving schemes.
2 of which are proven:
Glenui Super Lamar – BW: 423
Glenui BT Liberation ET – BW: 436
---