Dealing with Milk Fever

:This article was supplied by Warwick Dowse from Phibro Animal Health NZ
Dealing with Milk Fever
Deal to it before it happens!
It will come as not much of a surprise that Milk Fever can tend to be more of a problem in Jersey herds. I am not completely convinced of this, but taking into account the relative efficiency of our Jersey cows and their ability to produce more Kgs Milk Solids/Kg Live weight this could be a reason why this may be the case. Milk Fever is essentially a 'production disease'. We are dealing with 'metabolism' which is the breaking down compounds to create energy or building compounds that consumes energy. A lot is going on and we need to be prepared if we are expecting our cows to perform efficiently and profitably.
Farming a Jersey cow is a great start!
Being that said, I do find it difficult to hear that many farmers take Milk Fever on the chin and deal with it after the event. We should never get ourselves in this position after so much investment to get the cows ready for calving only to spend countless early mornings or late nights out there jabbing cows that are in trouble.
There are two clear lines of thought in regards to what is done and what should be done. Some of you are well onto it with good transition feeding programs spending time to make sure the cows are in the right condition, are fed the correct levels of DM and get if required, additional anionic supplements to set them up. In other words, Springer-mob management is right up there and your time is spent getting ready to calve and get as much milk out as quickly as possible for the longest period of time.
The other line of thought is to deal with the problem after it has happened and hope for the best as calving progresses. The challenge here is to try and change this approach and do something different that suits your production system and herd.
Here is our dilemma….every 'down cow' will cost you money up front and she will never really perform over the season and will probably suffer from a range of other metabolic conditions, be difficult to get in calf quickly and will never pull her weight in the milk solids department. To make things worse, chances are there are also some of her mates that will definitely have sub-clinical milk fever which is very difficult to observe and they will cost you some serious money.
Depending on the price of milk, Dairy NZ say Milk fever could be costing (not making) you around $8,000/100 cows.
After only a short time with Phibro Animal Health I have had the opportunity to talk to a lot of dairy farmers throughout NZ regarding the impact of milk fever. The scary thing is that most of them put up with it and plough on. Empty boxes and bags of CBG litter the dairy shed.
Unlike genetics where you will see the results of your cows mating after 4 years or so (the AB company's really need to get this right sometimes!), Milk Fever is immediate and right in your face when calving starts.
I would like to propose we look at things in a different light.
I understand that some of you do prepare and utilise a range of products, feeding systems and drenching strategies. If they work, then that's great, so keep it up.
What I am proposing is that you take a look at how much money you are leaving on the table (in this case…what the Milk Fever Thief is nicking) compared to what it will cost to stop that from happening.
I understand that our product Animate might not suit all farms as it does need to be eaten at least 15 days before calving, but when it is, the results are very good. It is an immediate result. In most cases the return on investment is at least 4:1.
The farms under System 1 will probably struggle to use a transition program where Animate is used, but every other farm system should at least consider it. We are looking at plans to help the full-pastoral farmers use Animate under NZ conditions so stand-by for that as it's just around the corner.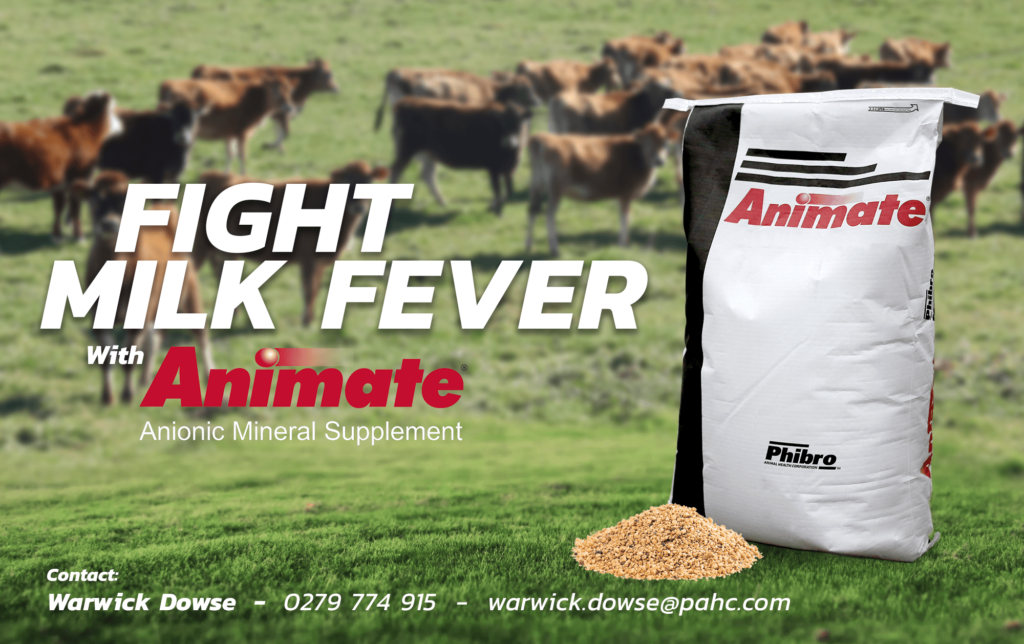 What is Animate?
Animate is a fully formulated anionic supplement based on Dry Distillers Grains making it very palatable. It has a very low dietary cation-anion difference (DCAD) which acidifies the diet even when cows have pasture as their main source of DM.
It is easily mixed with palm kernel, maize/pasture silage or intensive grain meals. Some clients are getting their feed mills to incorporate it for the springer mobs.
If you can get it into the cows before they calve, it will effectively set them up and make that calcium available immediately. Their metabolisms demand for calcium can be as much as 400% at calving so we are expecting a lot from these cows.
In most cases we recommend a rate of between 500-650 g/cow/day. This is dependent on the nutritional and elemental status of the feeds used in transition. Pastures that are high in K will make life difficult in terms of providing a high DCAD diet. We are chasing a lower DCAD diet platform to allow the cows metabolism be in shape for calving.
This is where Animate comes in and you will see results.
How is Animate fed?
If you can blend it in a mixer wagon, then that is a great advantage. Feeding-out in stand-off pads with troughs is the best scenario as each cow should have a decent chance of getting her ration. Walking them in each day is good exercise and a chance to watch them for any calving-related issues.
The ultimate scenario is when Animate is in a pre-made ration blend, but that is generally the exception here in NZ and not many farms are set-up to feed like this. The ones that are and use Animate are happy to be doing so.
Next best thing is to mix it in the wagon and apply out in the pasture. Not ideal, but it can be done and the results are generally very good.
Physically tipping it (25kg bags) into PK bins can be done, but even distribution throughout the springer mob is difficult. There are always those piggy-cows that tend to scoff as much as they can. Remember that Animate is very palatable and they will eat it.
How does it work?
Animate delivers a balanced ration of the anions that lead to the cow's metabolic state to be in either partial or fully compensated metabolic acidosis. In this state her kidneys are placed better to respond in terms of regulating hormones and eventually Calcium availability at that critical time. The blend contains sufficient chlorides and sulphates to do this, but also provides magnesium and calcium. I suppose we are tricking the cow's metabolism into thinking she has already calved so the critical hormones and Calcium in particular are ready to go. There is no point is trying to mobilize Calcium if it is not there.
Standard sources of anionic products are generally unpalatable and can lead to reducing the DM intake, but in Animate, the cows enjoy eating it and it will not affect their overall DM intake.
As a side point…when milk fever is under control there is a good chance that other metabolic and reproductive issues are also dealt with.
Just imagine a cow that calves easily, gets into milk production earlier and gets pregnant on the first go. There is also no need to dust the Springer paddocks with mag oxide. A great saving in time and money.
This is what we are all aiming for.
I hope this article has been of some help to you. If you would like to talk more on dealing with Milk Fever, then by all means give me a call or email me.
All the very best for the season.
Warwick Dowse
General Manager
Phibro Animal Health NZ
0279 774 915
warwick.dowse@pahc.com
---