'Lucas' Bound for Sire Stardom
'DRUMCLOG Manzelo Lucas JG' is an A2/A2 bull bred by Maihiihi farmers Ron and Shirley Hamilton and is one of 18 to graduate from CRV Ambreed and Jersey NZ's joint venture programme.

---
CRV Ambreed has announced its best graduate bull team in 50 years, and it includes a sire bred by an Otorohanga-based breeder. 'Drumclog Manzelo Lucas JG' bred by Ronald (Ron) and Shirley Hamilton of Maihiihi is a 2019 A2/A2 graduate sire from CRV Ambreed and Jersey NZ's joint venture programme. Predictions are that 'Lucas' will be a popular choice for farmers with extreme health and efficiency scores, meaning his daughters will typically be healthier, easier to manage, live longer and produce more milksolids per kilogram of feed than the average cow.
CHOSEN AS A CALF
'Lucas' was nominated for CRV's progeny test programme as a calf four years ago. Once mature, his semen was harvested at CRV's production and logistics centre and distributed to contracted progeny test herds around the country for mating. His daughters were then assessed on their performance in a range of environments and measured for their production value and traits. Breeding programme manager Aaron Parker says as one of 18 bulls to graduate, his production and performance traits will make him key to the future success of New Zealand's dairy industry.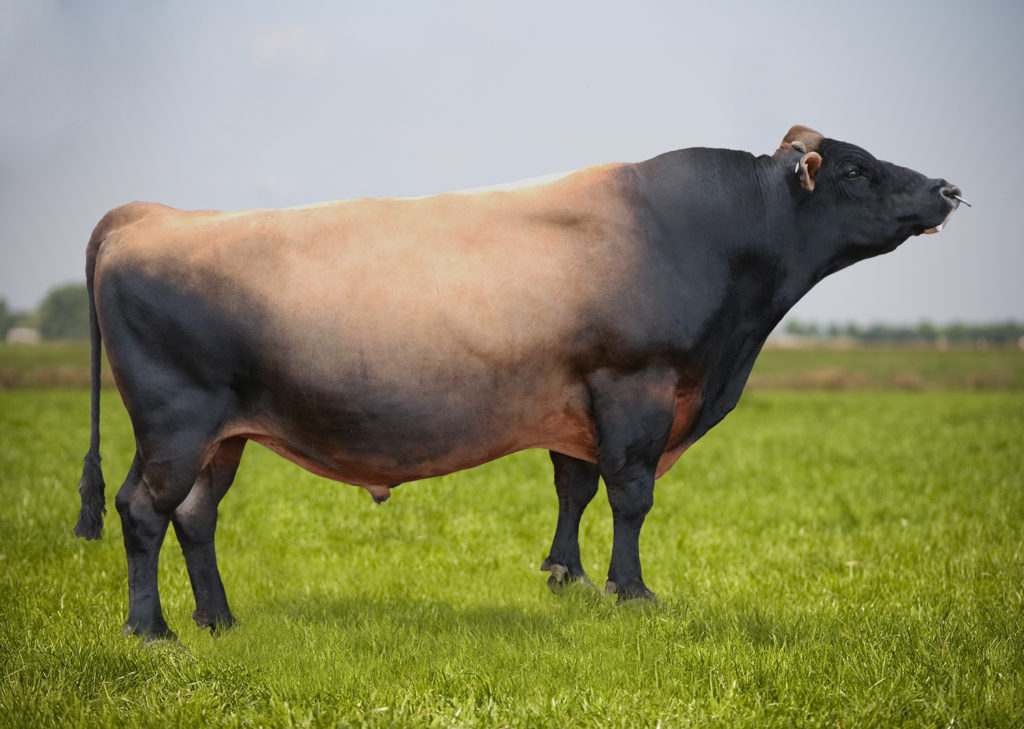 ELITE STATUS
Ron and Shirley, who have been dairy farming for 47 years, have had three Jersey sires in the CRV Ambreed programme in the past 10 years. But 'Lucas' is the one which has broken through to elite status. 'Lucas' was artificially bred from Pukeroa TGM Manzello and their own two-year-old dam 'Drumclog Integ Lollipop'.
"We're absolutely thrilled to bits, just to have recognition of the years and years of breeding," says Shirley. "Ron's knowledge of breeding is why we can trace 'Lucas' back — from our farm [records] — six generations and why he's ended up being what he is, with beautiful big strong Jersey daughters which is what farmers are looking for. "As farmers, we're all striving to have the best and it's lovely to have something out there that's going to help the breed in New Zealand."

BREEDING FOCUS
Their 250 herd of Jersey cows now belongs to their son Andrew and his wife Sarndra, while Ron and Shirley (with the help of Andrew) focus on their breeding stud Drumclog. About 30 years ago Ron started to experiment with American Jersey bulls, which he says took a bit of "fiddling about" to get the right mix of TOP and volume he was looking for. He says Lucas has three American sire strains in him giving his daughters a bit more volume and milk than a lot of Jersey bulls. "Andrew and I select the best sires internationally and locally — a mix of Danish, American and New Zealand — and mate them individually to the herd. Some farmers just bring in semen and go across herds, but we mate each cow individually. "We're specifically breeding for the different traits a bull is bringing," says Ron. "There's not many that make it through the CRV programme, so we're really thrilled that he's ['Lucas'] turned out as good as he is. "He was used as an in-sire, but now he's proven, we feel confi dent about using him extensively over the herd.