Introducing top genetics a priority
Currently, Jersey cows account for about 12% of the national herd, a demise caused by the shift away from producing milk for fat to milk for protein, driven by global demand decades ago. Today, however, with the premium paid for fat, those farmers who remained true to the breed are reaping the benefits. One farmer who really believes in the breed for lots of good reasons is Tony Landers, who along with wife Lesley own Glenui Jersey Stud at Kaupokonua in Taranaki. From the farm, the Tasman Sea can be seen about a kilometre away. "Our farm is 135ha in total but has an effective area of 128ha. In its past, the farm was two separate dairy units, however in 2010 a new 44 bale rotary shed was built and the properties became one dairy operation."
Tony was brought up on the original home farm and his parents had a herd of unregistered Jersey cows. His father didn't get involved in AB at all, so when Tony returned to take over that herd, it wasn't strong on breeding value. Always keen to improve genetics generation on generation, Tony made changes to how the herd was bred, with a policy of introducing AB across the herd and rigorously culling out the lower performing cows. "I wanted to see substantial gain generation on generation and that is what has been achieved. Today, the fully registered herd is placed seventh of the top twenty herds in New Zealand. Our herd has a BW of 316 and a PW of 346."
The farm is flat to rolling and on its western boundary it drop downs in terraces to the Kaupokonui River. Asked how this year has been Tony says its been a bit tough. While the winter wasn't cold it brought a lot of rain. Water hung around where it would have normally drained. Generally the farm can dry off during summer, depending on rainfall, given the free-draining nature of the soil. The best way to describe the impact Tony's strict breeding policy has had on the herd is summed up with these words. "The herd today is totally different from when I took it over in 1992." Introducing top genetics has always been the priority and Tony says for the first five to ten years they turned over the herd quite quickly, buying in twenty surplus calves of higher genetic worth, and selling heifers of less value. Knowing which are the good cows is an important fundamental. "My priorities are production and udder traits. We still have a bottom group in the herd. I spend alot of time just looking for the bulls that are superior. I'm a BW person in general but I always worry about where those genetics have come from." And seizing opportunities to improve herd quality through new technologies has always been a priority so when Genomic testing evolved 14 years ago as a selection tool to determine the best sires, Tony jumped on board. JerseyGenome™, a joint venture between Jersey NZ & CRV AmBreed was introduced to Jersey NZ members in February 2010.
The programme offers significant opportunities for breeders. It's aim is to identify potential bull mothers and generate sires that will enhance the future of the Jersey breed. Tony is a JerseyGenome committee member and an appointed Board member of Jersey NZ, an organisation that aims to promote the breed nationally and collaborate with breeding entities such as CRV AmBreed and LIC, to bring about year-on-year genetic gain. Each year Jersey NZ receives a report of the top 900 registered Jersey heifer calves based on breeding worth and those calves go through a preselection process. There's a strict performance criteria that must be met, which reduces the initial number. Breeders are asked whether their animals are available to go through Jersey Genome and some choose not to, so the number gets whittled down. Breeders who want to and are selected take hair samples from their chosen calves, which are sent to CRV for genomic testing and compared with their parents values.
For Tony, becoming part of the JerseyGenome programme was a way for him to compare his breeding programme with other breeders. Genomic testing isn't the only tool in the box for the Landers', who also use Embryo Transfer technology to increase the number of progeny within the herd from the highest performing parents. Tony has been involved in Jersey governance since 2016. He is one of two appointed directors of a total of six. The joint venture with LIC is called Jersey Future. "My specialty would be genetics. We help select the bulls that go into the Jersey Future programme." So far four Proven bulls and five Genomic bulls have made the LIC Bull teams for 2022. JerseyNZ purchased a 25% share of a 600 cow farm in Southland, with Jersey Advantage(25%) and five private investors in June 2021. This joint venture is proving very successful for all parties, after only operating for 18 months. Next year, Jersey NZ will hold its annual conference in Invercargill, affording members an opportunity to visit the farm.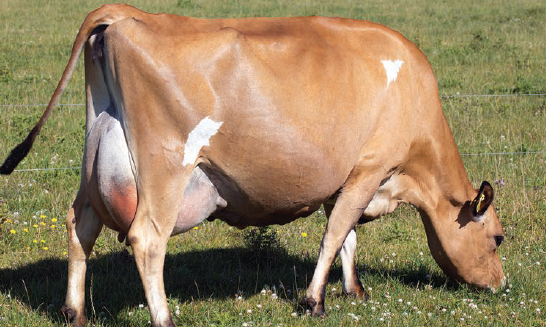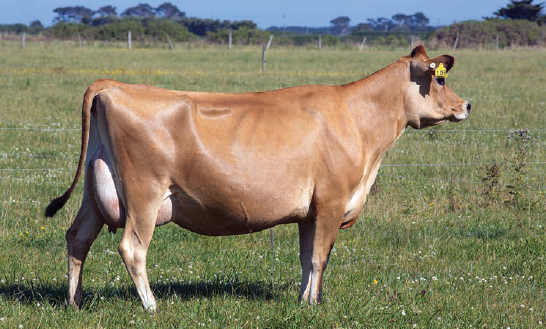 Lace (top photo) is the result of first Embryo Transfer (ET) work at Tony and Lesley Landers' Glenui Jersey Stud and is the dam of the very successful L family including six proven bulls- Liam, Larkin, Laird, Layton, Laredo and Landon. Lacey (bottom photo) is daughter of Lace, and dam of Glenui Super Lamar.