Jersey Girl expands to cope with demand
"Cleave was my great grandfather's name and when they started the jersey stud here they called it Cleavedale after him. Our Jersey herd is still registered in that name with Jersey NZ."
The fourth generation of Vospers to milk Jersey cows on their 80 hectare milking platform in Matamata, John Vosper was the first to go organic. That was in 2003 and he's happy to say that things have got a lot easier in the intervening years as organic farming has gained recognition as a viable farming alternative. More people farming organically makes finding things like organic fertilisers and animal health treatments that meet certification standards a lot easier. At the same time as they went organic he and his wife Liz McKay, who works off farm, named their farming company Cleavedale Farms. "Cleave was my great grandfather's name and when they started the jersey stud here they called it Cleavedale after him. Our Jersey herd is still registered in that name with Jersey NZ," says John. In 2014 they went a step further and began bottling the A2 milk from their 210 cows in distinctive Jersey Girl Organic bottles which now supply milk all over the North Island. Their son Michael, who was share-milking for them at the time, then transitioned into the role of Managing Director of Jersey Girl. More recently he's back in the cowshed, but this time the one that comes with the other organic farm they're now leasing 20 kilometres down the road, only a few kilometres from their 40 hectare support block.
Adding the organic milk supply of the additional 220 strong Jersey X herd helps ensure that as they continue to grow Jersey Girls will have the milk they need to satisfy customer demand, particularly in spring and autumn. Instead of split calving they'll autumn calve on the home farm and spring calve on the lease farm. "It'll make it easier to manage on the home farm because we'll have less happening with fewer calvings and fewer mobs of animals at different ages and different states of lactation," says John. "We're looking for economy of scale as well, for that sweet spot where we've got the right number of cows to make the best use of our plant."
Introducing the HALTER system which puts electronic collars on the cows was already a game changer according to John. "It's an amazing technological change for dairy farmers. Instead of putting up electric fences we can shift the cows just by using our phones from wherever we are. You can send half your cows to the next paddock while the other half go to the cowshed, or put a bunch of skinnier cows where there's more food, or find an individual cow. There's a lot of features that can be turned into benefits."
For an organic dairy farmer the steady stream of metrics available is particularly valuable for getting early health warnings. The sooner you can intervene when you're organic the higher the chances that you can successfully treat the illness without havingto use remedies that mean the cow must leave the herd.
John's farm manager Buntaro Saito brought in two dry cows having received a health alert. It was in between their usual regular checks for mastitis and allowed for timely and successful intervention. With Buntaro managing the day-to-day running of the home farm, John oversees it while managing Jersey Girl, in a role-reversal with Michael who's now running the new lease farm. Michael's wife Karissa also works part-time with Jersey Girl, processing orders and customer service, at the same time as completing her Masters degree in Psychology and bringing up their 18 month old twins William and Thomas, and older son Carter (8). It looks like there's a sixth generation of Vospers in the wings, ready to add to the family legacy when the time comes.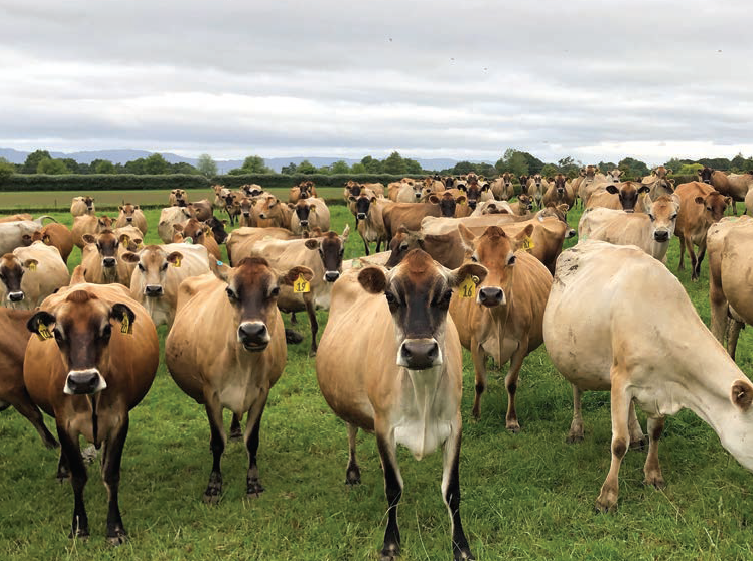 Credit – NZ Dairy Summer 2022 edition