Special Awards 2023
The JerseyNZ Special Awards were presented during the 2023 Annual Conference, held in Invercargill from the 29th-31st March.
---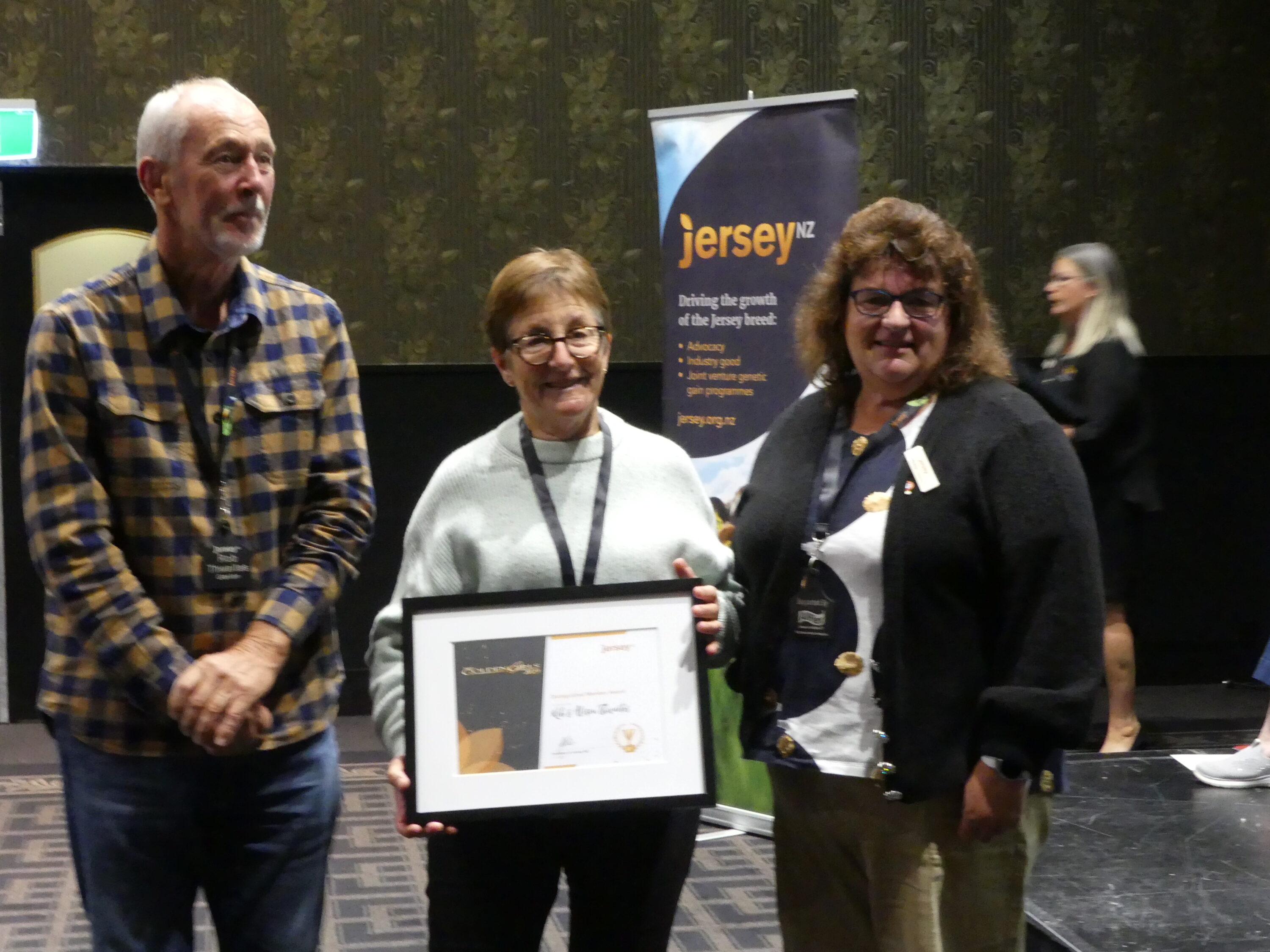 Distinguished Members Award – Rob & Alison Thwaites
The Hawera Jersey Club is delighted to nominate Rob & Alison Thwaites for a Distinguished Members Award from JerseyNZ.
Rob & Alison are valued members of our Club and are fully involved in every event we have. Alison hosts lunches and afternoon teas for our Club events and also has Judges or visitors to the Club to stay.
They always enter our heifer days and our annual on-farm Club Show. Their recent highlight has been Glanton Integrity Merry gaining Champion Cow twice. The bull calf class is always keenly contested and Glanton has won this class many times. The rest of us just try to beat Alison in this class.
Glanton is at the top of Jersey bull breeding in New Zealand. Many of their elite bulls have descended from one of their greatest cows Glanton Mans Blanche who was one of the first two cows inducted into the Jersey Cow Hall of Fame in 2022. Blanche has many sons, grandsons and great-grandsons in the top echelon of BW. Currently Glanton Desi Banff sits at number three and Glanton SS Bastille S3J at number six.

Glanton has been a supporter of the national Jersey Pride sale and they have the all-time record price for a Jersey incalf heifer of $23,600 for Glanton Punch Bria ET in 2022 and the all-time record price for a yearling of $14,200 for Glanton Triple Bardot ET in 2019.

Rob has a Jersey family pedigree second to none with his parents Jim & Betty Thwaites also being very involved in the Jersey Association with Jim being a Vice President of the NZJCBA. As members of the Hawera Jersey Club from before Rob was born, it means that Rob has been involved with our Club for his whole life. The Glanton stud bred Glanton Red Dante who was used all round the world and is one of the most famous NZ Jersey bulls.

Alison's parents Don & Margaret Brown had a herd of grade Jerseys but purchased bulls from the Maori stud at Lepperton which was the premier breeding herd in NZ and the Pampas stud in Levin who had the highest producing herd in NZ at that time. The Browns were one of the first herds to use AI in NZ. Alison's brothers had pedigree Jersey herds too with Geoff having the Royals Green Jerseys herd and Murray having the Brownson stud. The family bred Royals Green Elmo who is one of the greatest NZ bulls used in Australia.

For many years Alison allowed many local school children to come to their farm and use their calves for school calves and calf club days. Many of these calves also went to the local A & P shows. A labour of love which shows through today with a herd of extremely quiet cows.

Rob has always attended and contributed to Dairy Company and LIC meetings and events. Rob
& Alison enjoy attending events all over NZ to do with dairy farming and in particular the Jersey
cow. They are great supporters of the breed.

Rob is a Past President and a Life member of the Hawera Jersey Club. We believe they are fully
deserving of this award.

The Hawera Jersey Club.
---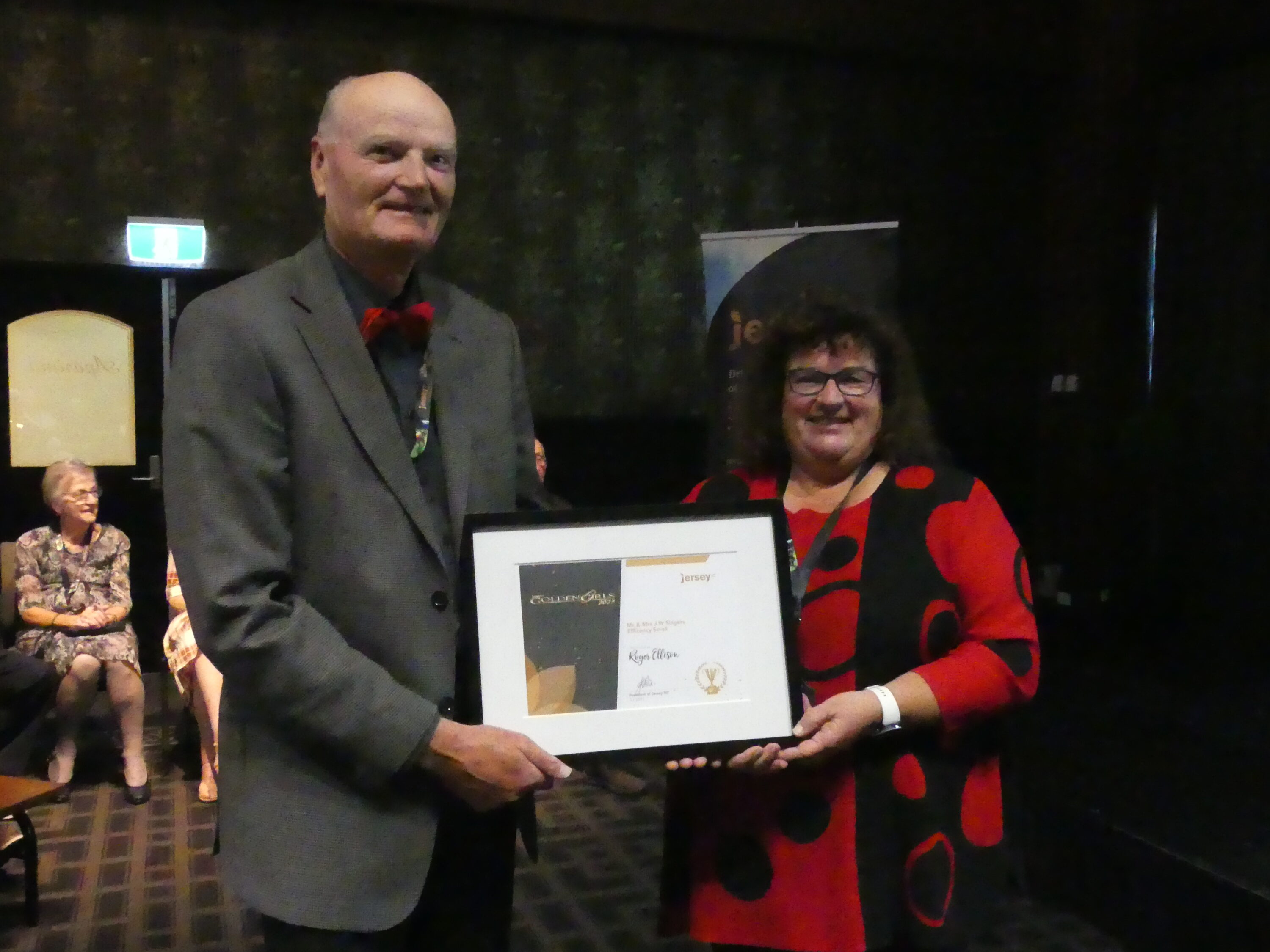 Mr & Mrs J W Singers Efficiency Scroll – Roger Ellison
This award is made to the person who, in the opinion of the Jersey NZ Board, has done the most or been the most active in promoting and publicising the Jersey breed and the Association. The award covers all phases of a breeder's activities including testing, showing, breed promotion and administration.
The Mr & Mrs J W Singers Efficiency Scroll for 2023 is presented to Roger Ellison.
In 2016 Roger was approached by the Board and asked to reinstate the Industry Affairs Committee and since then, under Roger's leadership, this committee has worked tirelessly to develop positive working relationships with industry players such as LIC, DairyNZ, and NZAEL to name a few. As a result, many of the invited guests now ask when they can come back to visit the group as they value the connection and insights gained with jersey farmers.
Roger believes strongly in the jersey breed and takes seriously the advocacy role that this committee plays. Rather than keeping this information within the group itself, Roger actively writes detailed and insightful articles for the Jersey Focus enlightening members of the information gathered and discussing the possible impacts on the jersey breed. A range of topics have been offered; "fat is back", global warming and the dairy industry, breeding for Facial Eczema resistance, developments on production worth, on-farm data recording and its impact on NZAEL data outputs, opportunities in the beef market and so the list goes on.
Roger and his wife Glenys, both trained veterinarians and partners in a vet diagnostic lab, turned to jersey farming after purchasing their farm in 2003 – the dream was realised and since then have fully embraced all aspects of the services of JerseyNZ; regular and successful contributors to the Jersey Genome programme, submitting a calf for the youth raffle, members of the Te Awamutu Jersey Club and then Roger finds time to write informative and thought provoking board reports on behalf of the committee often with recommendations of future actions arising from their discussions.
Roger and Glenys have bother been very active members of their local Te Awamutu Jersey Club and discussion group, with Glenys taking promotional photos and looking after the Clubs active Facebook page. Most recently, Roger took over as Secretary for the 2022 Jersey Classic and Glenys is compiling a Centenary Book for the Club.
The Board of Jersey NZ believes that Roger's knowledge, passion and advocacy for the Jersey breed make him the ideal recipient of the Mr & Mrs J W Singers Efficiency Scroll.
---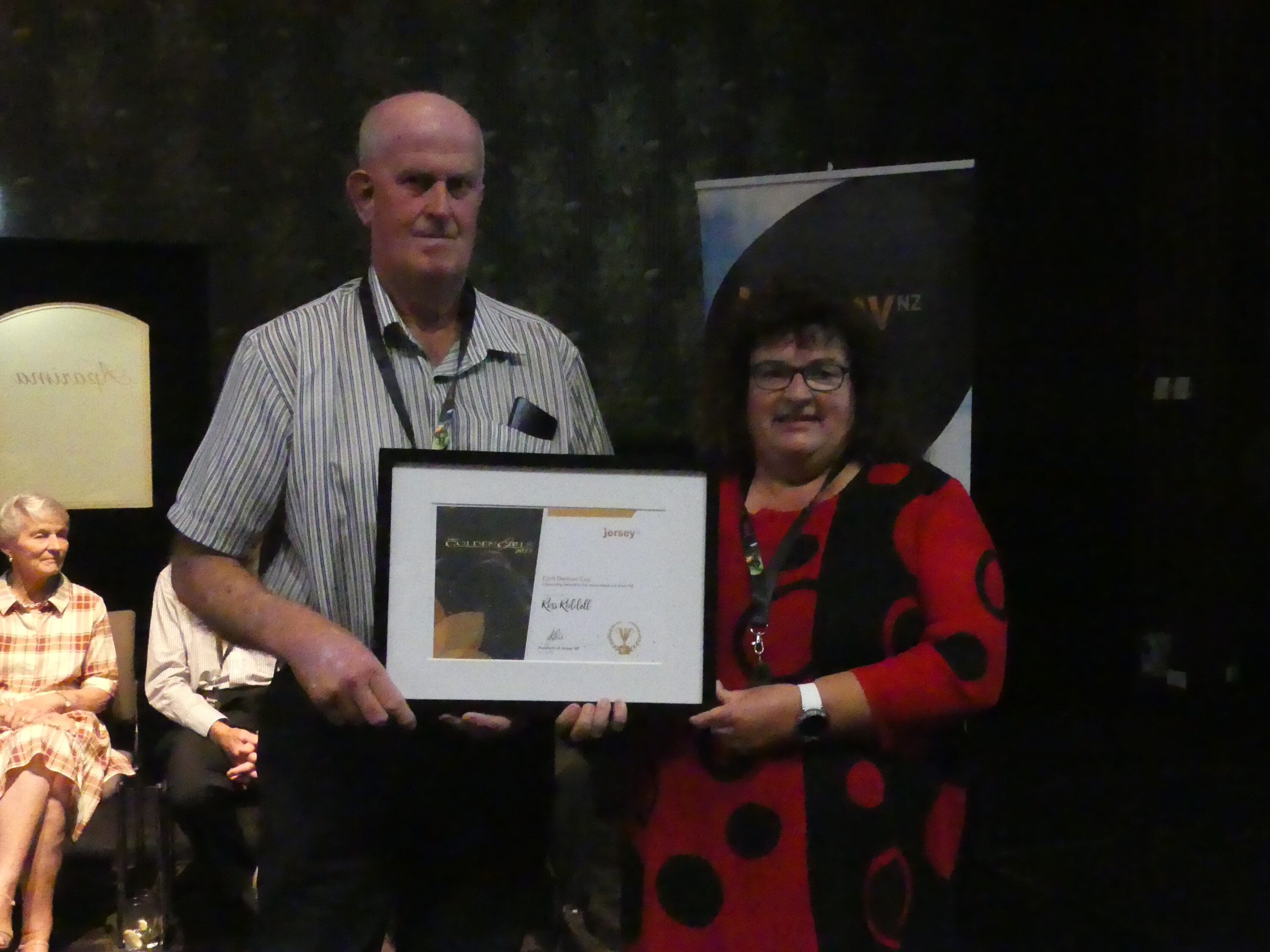 Cyril Dermer Cup – Ross Riddell
In recognition of outstanding services to the breed and the Association.
Nominated & presented by the Jersey NZ Board for activities over the preceding 12 months.
The Cyril Dermer Cup for 2023 is presented to Ross Riddell
The Roscliff prefix was first registered in 1968 with a herd predominantly consisting of Elmsford descendants and since then Ross has fully embraced all aspects of jersey life both at club and national levels.
Ross believes strongly in the jersey breed and unsurprisingly became the West Waikato Jersey New Zealand Councillor in 1986 from which he then stepped up to President in 1989. The structure of JNZ was very different then but in later years, during a difficult time, Ross again saw himself in the role of President where he spent many hours unravelling the books in preparation for a pending court case. While this is not a period of time in the of history of Jersey New Zealand we like to talk about, it is important that we acknowledge the phenomenal amount of work Ross undertook during that time and acknowledge that it also marks a turning point in the structure of JerseyNZ going forward. Today Ross continues to support the board as chair of the Appointments Committee; a committee that assists the board to analyse their skill set and find suitable appointed directors for provide additional skills.
Jersey Marketing had all but fallen off the radar until Ross looked at reviving it. Together with a small group of others; Trent Paterson, Warren Berry and Nigel Riddell they recognised that if it were to increase its profile and become financially viable as a revenue source for JerseyNZ, it needed to market beyond the jersey breed. Thus the name became Link Livestock Limited with the by-line "Linking Buyers and Sellers". With the new structure in place, Ross continues to spend many hours as an agent.
Ross's passion for selling quality stock in further evident in the inordinate amount of work Ross spends in finding excellent genetics for the annual JerseyNZ Pride sale. This sale is in its 29th year and Ross visits herds around the countrywide to ensure a quality sale of anywhere between 15 to 20 lots. With the use of BIDR these genetics are fully available to all farmers and thus the power of the jersey breed is now widely accessible.
Ross is a fully qualified classifier and judge and still finds the time to spends many hours classifying herds, talking with jersey breeders and attending and participating in shows.
The Board of Jersey NZ believes that Ross's knowledge, passion, ongoing support of the JerseyNZ Board and advocacy for the Jersey breed make him the ideal recipient of the Cyril Dermer Cup.
---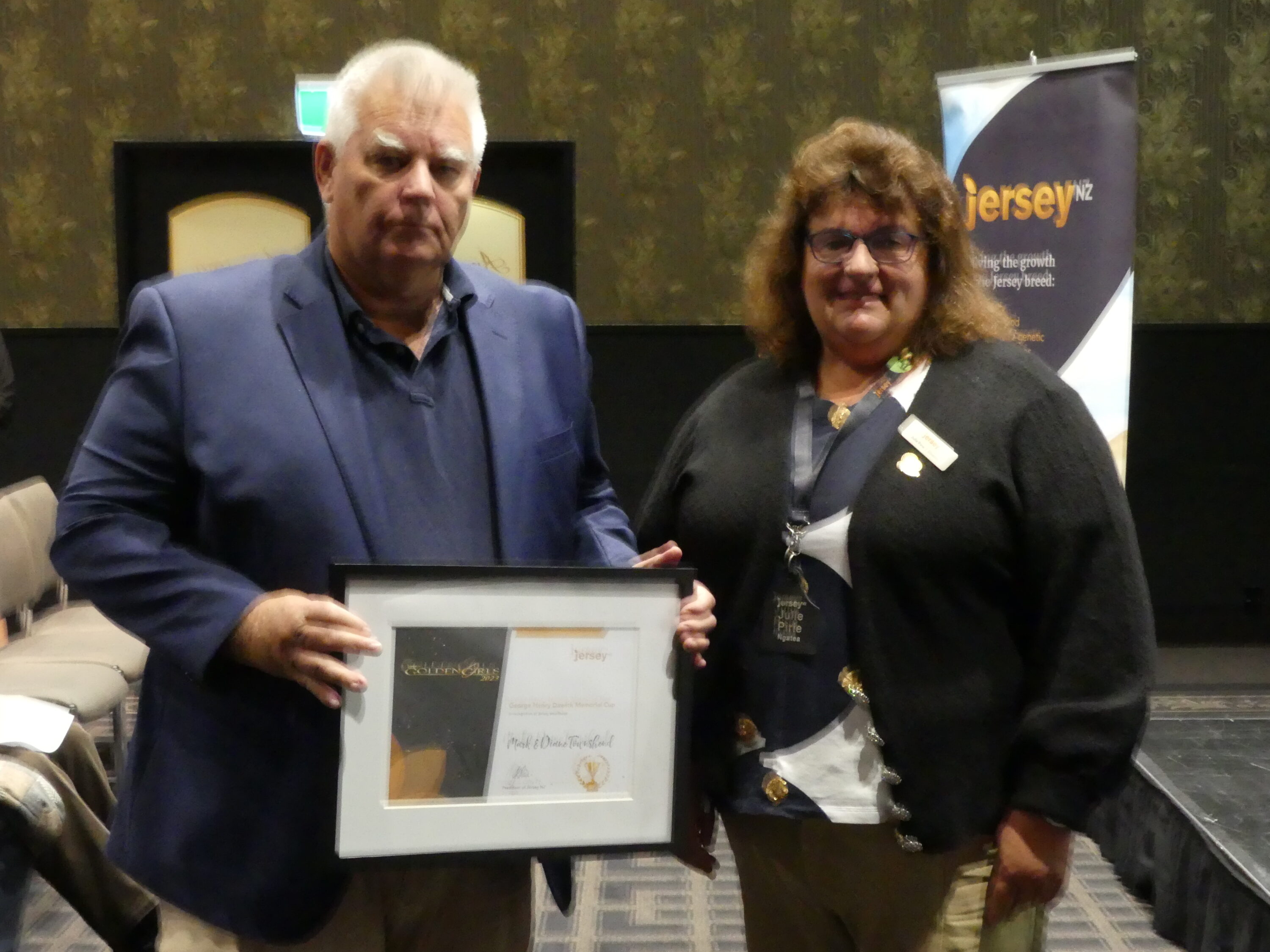 George Henry Dawick Memorial Cup – Mark & Diane Townshend
The George Henry Dawick Memorial Cup is presented to a member who has attained significant achievement at either a national or international level that reflects progressive Jersey excellence in any field relating to the Jersey breed.
During George Henry Dawick's 27yr tenure as Managing Secretary of the New Zealand Jersey Cattle Breeders Association he was a renowned stalwart of the breed and a force to be reckoned with when pursing Jersey excellence. He saw the pursuit of excellence as paramount to the future of Jersey cattle.
In 2023 Jersey NZ has much pleasure in awarding this Cup to Mark & Diane Townshend. Their contribution has been significant in many areas and over many decades, and with a passion which shows no sign of waning. Mark and Diane have a long history of Jersey NZ membership and support of their local Jersey Club – the Thames Valley Jersey Club. The Crescent Herd has made an outstanding contribution to Jersey Genetics growth in New Zealand through building strong Female Family lines and having high genetic merit Jersey Bulls entering AB Companies. Mark has had significant industry involvement, both in leadership roles and in advocacy for the Jersey Breed. Their farming operations have been based in New Zealand and International. A strong focus on commercial outcomes in their farming businesses has created opportunities for them to work alongside others, helping mentor and grow the next generation of younger farmers and farming leaders.
The Townshend family was actively breeding Jerseys through the times when Shorthorns were the dominant breed, then through the 30's when Ayrshire bulls were fashionable. In the face of Friesian and Cross Breed popularity today the Townshend advocacy for the efficiencies of Jersey Genetics continues.
The Townshend family connection with Jersey goes back a long way. In 1916 Charles Townshend, in Aria in the King Country, registered his first stud under the Bellwin prefix .
He was Thames Valley Secretary from 1927 to 1953, along with several Directorship positions. The secretarial role continued with Bruce Townshend from 1952 to 1973, along with other Directorships and being MP for Kaimai. Following this Mark was Club Secretary from 1973 to 1984, then Chairman for two years.
The Crescent Stud was established in 1953 by Jack Thomas, Mark's maternal grandfather. Mark's parents, Marie and Gray Townshend, operated the stud from 1959 to 1974, continuing a focus on commercial objectives and nominated AB use.
Crescent supplied its first bull, Crescent Haymaker, to the AB industry in 1958. Since 1974 Mark and Diane have grown the Crescent influence with numerous bulls in the AB Companies of LIC, CRV, Liberty Genetics & Matriarch. And the sale of bulls at the Thames Valley Genetics Leaders Sale of High BW Pedigree Jersey Bulls & the National Jersey Bull Sale.
Mark and Diane have been long term Jersey NZ members with Mark holding various committee roles. A regular attendee of Conference and the AGM, his participation has always enlivened proceedings, challenging and stimulating discussion in the pursuit of excellence for the Jersey Breed.
The purchase of Jersey Land Farm was initiated and led by Mark. It has been a significant achievement to bring together Jersey NZ, along with Jersey Advantage and a group of private leading investors. This business venture is one which will have long term benefits for members of Jersey NZ.
With decades of farming experience, Mark and Diane's current farming interests include New Zealand and North & South America. Alongside of farming, Mark is a professional director with a focus on industry governance. He was a director of the New Zealand Dairy Group, New Zealand Dairy Board and founding Director of Fonterra in 2001. Currently he Chairs New Zealand Animal Evaluation Ltd. His many farming leadership roles and industry involvement have given him a high profile, both in New Zealand and overseas. Mark and Diane's family continue the Townshend connection in many facets of the Dairy Industry.
This bringing together of a passion for genetics, business acumen, governance and leadership skills has seen Mark and Diane continue to grow a legacy of supporting the Dairy Industry, strong advocacy for the Jersey breed and providing opportunities for our future farmers. Jerseydom is all the richer for the vision which Mark and Diane have followed.
Jersey New Zealand thanks them for this work and has much pleasure in the presentation of the George Henry Dawick Cup to Mark and Diane Townshend.
---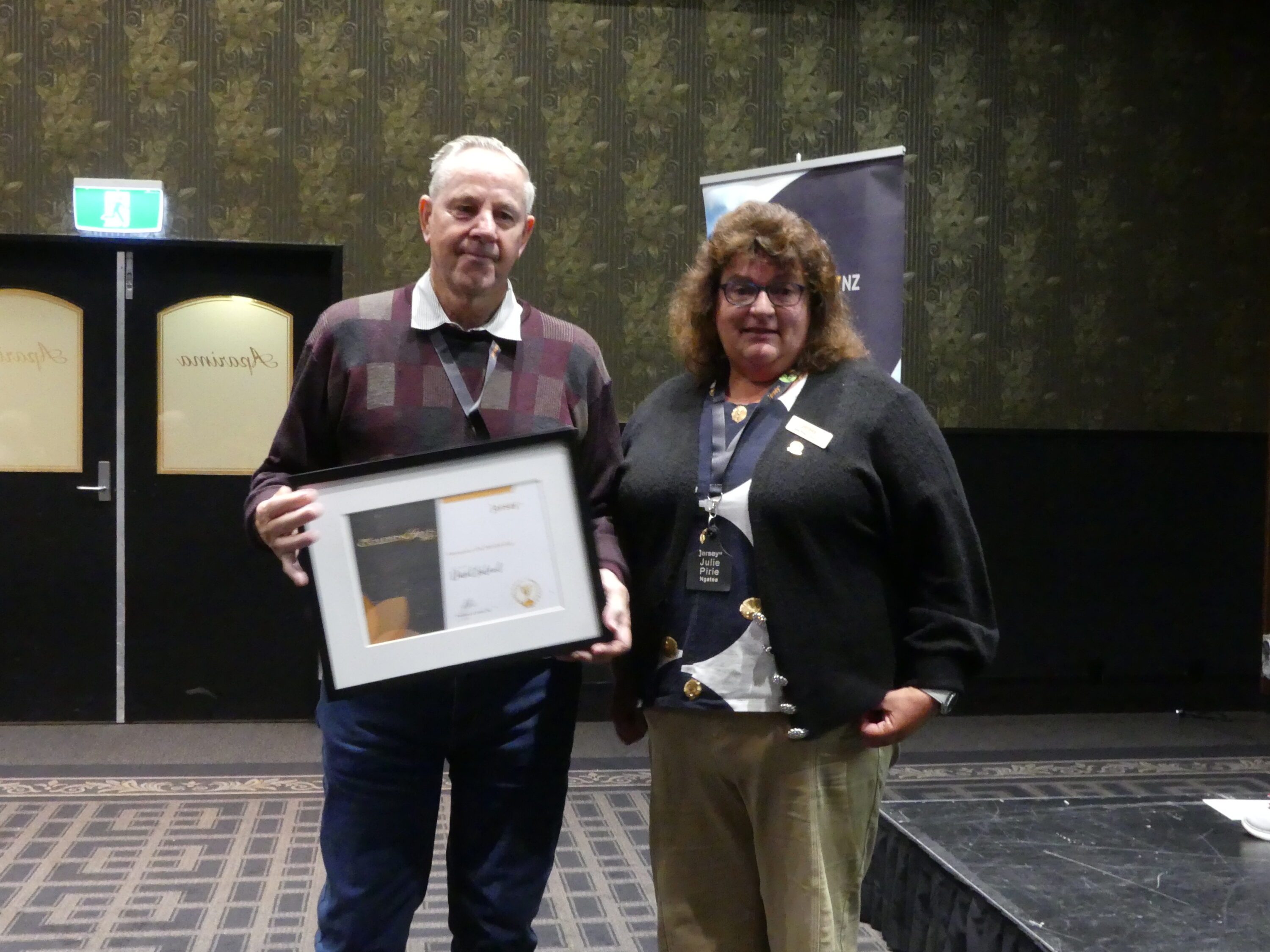 Honorary Life Membership – David Ireland
Jersey NZ takes great pleasure in awarding David Ireland an Honorary life member award.
David and Elspeth started their Ladybank Jersey stud in Tokoroa over 60 years ago before moving to Arapuni and then onto their kiwi fruit farm in TePuke.
David started as a classifier in 1981 and then TOP inspector and has continued to this day. We think you only missed one year in 2002 because of surgery.
Breeding values derived from TOP inspections are a major contributor to genetic gain today. David's contribution by inspecting literally tens of thousands of cows has created significant value for the jersey cow and all jersey farmers past and present during his service.
We understand David has thoroughly enjoyed his role as an inspector while making great friendships.
Other inspectors have mentioned how enjoyable it has been working and travelling with David.
Always good for advice and always a gentleman
David was awarded distinguished member in 2017 during the Wellington conference at parliament house for his contribution to Jersey.
David emulates everything that identifies for this award
We all agree over 40 years' service is extraordinary.