Stud invests heavily in Aust Jersey Bulls
Jersey studmasters in this country have long regarded their North American counterparts as a genetic source of cows that are larger and have a higher conformation than the New Zealand average, but Brad and Rebecca Pickett of the Greenacre Stud are finding that Australian bulls can also add size and high type to their herd.
Since launching their stud seven years ago, the Picketts have invested heavily in genetics through the international semen trader Semex, and also the Genetics Australia Co-operative which recently formed a joint venture with global herd improvement company URUS Group, marketing Australian genetics world-wide.
"I haven't actually been to North America to see their stock in the flesh yet, but I had a look around Victoria and was really impressed with the Australian stud stock I saw," Brad says, noting in particular the Bushlea, Brookba, Warrain, Kings Ville and Broadlin studs. "Australian Jersey cows are as big as American ones, and their genetics are just as impressive, with a huge emphasis on strength.
"What's also significant is that the Australians in most parts of the country farm pretty much the way we do in New Zealand, making their genetics particularly relevant to us."
Greenacre Jersey Stud runs a herd of 230 registered cows on a 60ha farm near Morrinsville, producing between 530kg and 550kg of milk solids per cow for a total output of 125,000kg/ms a year. The Picketts run the farm, which has been in the family for more than a century, with Brad's parents, Fiona and Graham Pickett.
It's flat, with summer production underwritten by a centre-pivot irrigator that waters 80% of the farm. One of the Picketts' Australian genetic investments is in a bull called Cairnbrae Elmo, bred by the Cairnbrae Jersey Stud in Victoria, where Brad was able to check out some of his daughters which had liveweights of around 450kg.
"We've got some young stock by Elmo on the ground here , and they're looking good: big, long animals," Brad says. Another Australian bull he's had notable recent success with is Bushlea Viral from another Victoria stud, Bushlea Jerseys, which has bloodlines going back to the famous Huronia Centurion Veronica.
"We've got heifers of his calving right now and,and they're proving extremely well-balanced and
will grow into very good cows." Brad says he's trying to breed "correct" animals selected in particular for size, conformation and milk components, on the principle of achieving higher life-time production while retaining the Jersey virtues of robustness, as well as being "light of foot."
Which isn't to say that North American influences are no longer entering the Greenacre bloodlines: in fact Brad's currently consulting with Semex about bringing in semen from Canada from a maternal line of big cows there that has impressed him. The combination of North American and Australian genetics has seen the cows in Brad Greenacre stud herd getting close to 480kg in mature liveweight, and he's concentrating on reducing his own stock numbers while getting per-cow production up to compensate.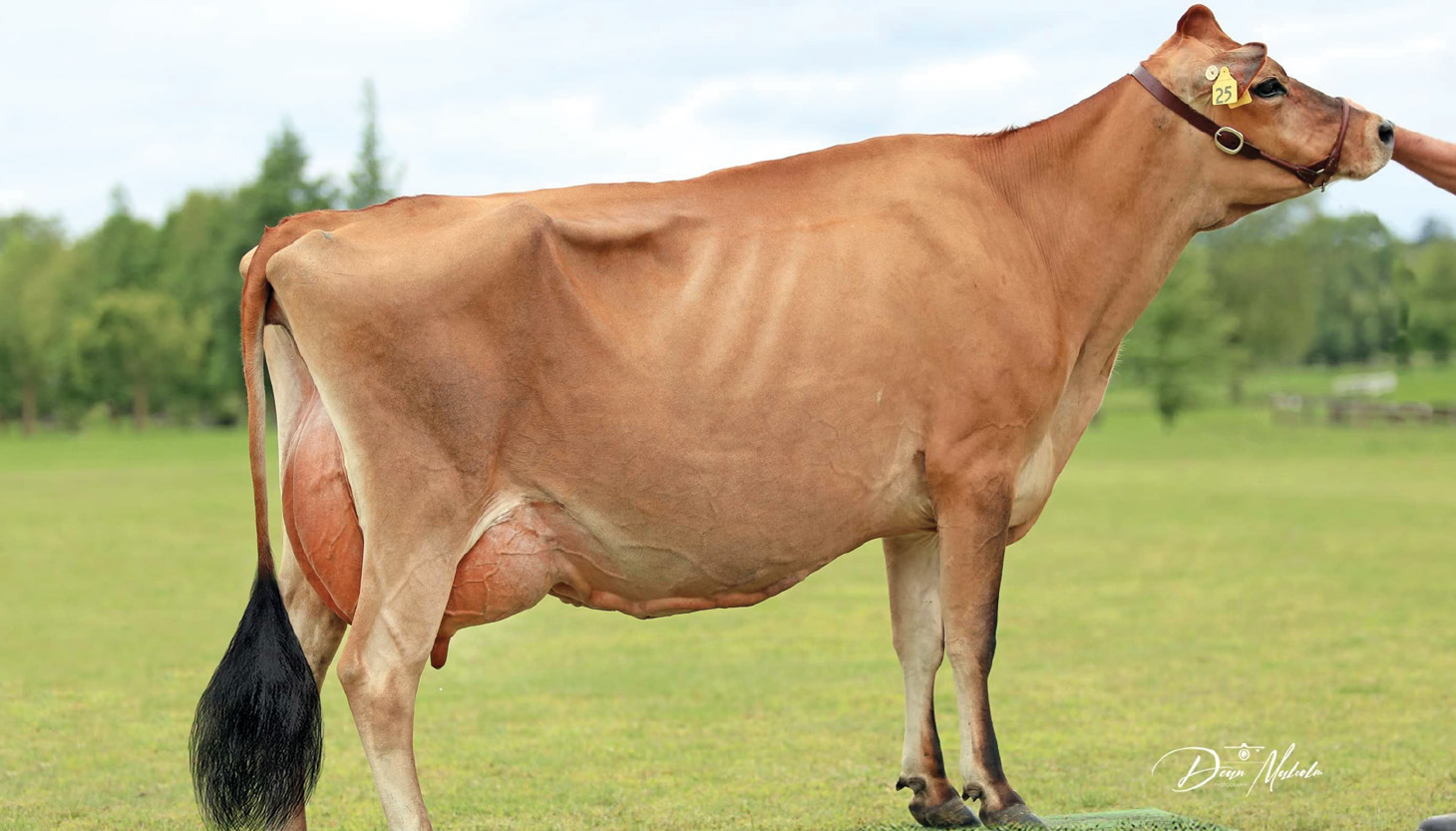 Credit: NZ Dairy Farmer