Jersey milk from farm to table
When Fonterra made a significant reduction to its dairy payout in 2017, it ignited
a fuse that would become Bella Vacca Jerseys Milk; farm fresh, creamy and just delicious.
The driving force behind Bella Vacca Milk is Bay of Islands dairy farmers Jody Hansen and
Gav Hogarth. Jody says the significant reduction in pay-out either meant she had to go off-farm to work, or they would have to take a loan to survive, and neither option had much appeal.
"We looked at changing from being a price taker, to a price maker and set up a little mini milk factory in shipping containers to produce raw milk. We only did raw milk for twelve months before going to pasteurised milk, which required us to meet MPI requirements, and the importation of a pasteuriser.
"Now our milk goes straight from the 20-aside herringbone shed to the pasteuriser right next door. The milk is pasteurised at 65° Celsius then chilled down to 4° which takes about two minutes. The milk is then bottled direct from the chiller and awaits transportation. Currently we use 500ml and 1L glass bottles."

For the last twelve years Jody and Gav have been milking between 150 and 250 cows on 65 hectares in Pokapu, Northwest of Kawakawa. The land has been owned by the Goodue family for well over 100 years, and is currently leased by Jody's son Cam, and his partner Amy.
The herd is predominantly purebred Jersey with a few Jersey / Friesian cross and calve three times a year, with sixty per cent of the farm's milk going to Bella Vacca, and the balance to Fonterra. "We predominantly wholesale our milk to stores and cafeterias from Kaitaia to Central Auckland, and we do home deliveries in East Coast Bay, Birkenhead, Newmarket, Remuera, Te Atatu, Hobsonville, and Henderson.
"One of our goals is to increase our home deliveries, so that the majority of Auckland is
covered. We have three trucks on the road. Gav leaves here on a Monday morning and does deliveries on the way down to Auckland and does Auckland deliveries Monday/Tuesday/Wednesday. He comes home Wednesday night, gets more milk and goes out again Thursday morning for more deliveries and comes home Saturday
"We have one other full time driver and one part time driver, all doing different runs. We deliver the fresh order, bring the empties back and sterilise them ready for re-use."
With the increasing demand for Bella Vacca Jersey Milk and the occasional growth spurt, Jody and Gav have employed three full time staff along with two part timers, all local people, and all helping to produce a delicious, fresh and healthy product.

What makes the milk so special? Jody has no hesitation in saying it is all about the love that goes into producing it. "It's jersey milk, its farm fresh, and it's a farmto-table experience. It's old fashioned quality with modern day convenience. Also the milk is not standardised, so there are variances in its taste depending on the cows' lactation cycle and also what the cows' have been eating. We try to naturally standardise the milk by calving three times a year."

Bella Vacca Jerseys comes in full cream milk, trim milk, and cream. There is also Potset Yoghurt that is branded Poppa Jax. "The products are named after our two grandchildren, Bella and Jackson (Jax). Jackson was very upset when Bella had her name on everything. She was just a baby when we started Bella Vacca and Jackson wasn't born. So we told Jackson we would make something and put his name on it, and that was Poppa Jax Potset Yoghurt."
"It's jersey milk, its farm fresh, and it's a farm-to-table experience. It's old fashioned quality with modern day convenience. Also the milk is not standardised, so there are variances in its taste depending on the cows' lactation cycle and also what the cows' have been eating."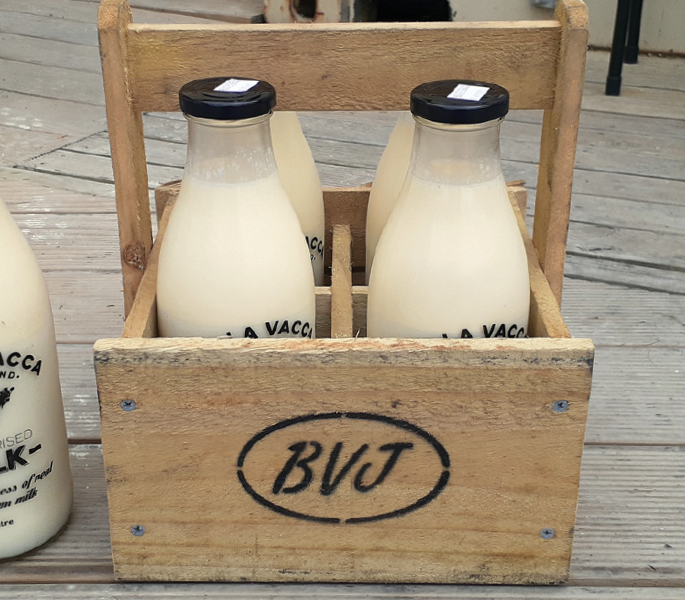 Credit: NZ Dairy Farmer