Posterity Jerseys
In April 2022 Dick & Faye Post of Posterity Jerseys, Tauwhare became record-breakers when they dispersed their herd of Jerseys and sold Posterity Mans Susie (s. Tironui Superman ET) for $55,000 to Riverbank Dairies Ltd in South Otago, a NZ record all breed price. Several other animals including Susie's daughter also sold for prices over $10,000 in a hugely successful sale (refer Jersey Focus – June 2022).
This year, they followed this up with another online sale for the last of their stock – with three cows and 80 heifers averaging $2,344. Dick really enjoyed collating the pedigrees for the recent sale, it was a great opportunity to see how their dams are doing in their new herds. Most of the heifers are still on the farm during our visit, but Lot 3 Posterity Flint Valance S1J (s. Shepherds LT Flint ET S3J) was being picked up that afternoon. The largest of the heifers weighing in at 445 kg, Valence is the daughter of the cover girl from the 2022 sale P. Fillip Vale S0J, who sold for $4,550.
Her new owner is Susan Heron of Owharoa Farms Ltd, Pukekauri. Susan is the sister of Debbie Mercer whose Owharoa Jerseys herd in Southland was recently dispersed. Susan farms the original family property in the Waitawheta Valley near Waihi. The heifer was purchased for her by recently retired farmer and her relief milker Bill Sanderson. "An unexpected gift at an unexpected time", Valence is already in-calf to Tironui Superman ET, the same bull that Susan has ordered to use on her own heifers with one already on the ground.
In the year between the two sales, the farm at Scotsman Valley Road (near Hamilton) where they farmed for 40 years has been sold, and they have moved to their former 40 ha runoff just a few minutes drive away on Tauwhare Road. Now that the last of their dairy cattle have gone they will raise beef and have taken on some dairy grazing with 35 Jerseys currently grazing on farm. They are hoping that this will prove less of a tie, and plan to get some travel in both in New Zealand and overseas.
Dick comes from a Jersey farming family, but the family farm was not a pedigree stud. He started Posterity Jerseys in 1993, not registering all the herd but rather those that stood out as elite. His philosophy revolves around cow families, which have evolved from 2-3 families 10 years ago to almost 10 distinct families when he sold up. Breeding for volume, he believed that with volume came protein. He followed genomics initially when it was introduced, then like many other breeders backed off for a while. He has also followed bulls from certain studs. Dick and Faye rarely purchased stock from other breeders (just four animals in over 30 years with three from Crescent), always breeding their own stock.
In his last few seasons, Dick milked 325 cows, averaging around 425 kg milksolids per cow, and Breeding Worth in the herd was often sacrificed for size. The herds final season in 2021/22 saw 64 registered Jerseys average 4,559 litres milk, 261 kg fat, 183 kg prot (443 kg milksolids) in 238 days.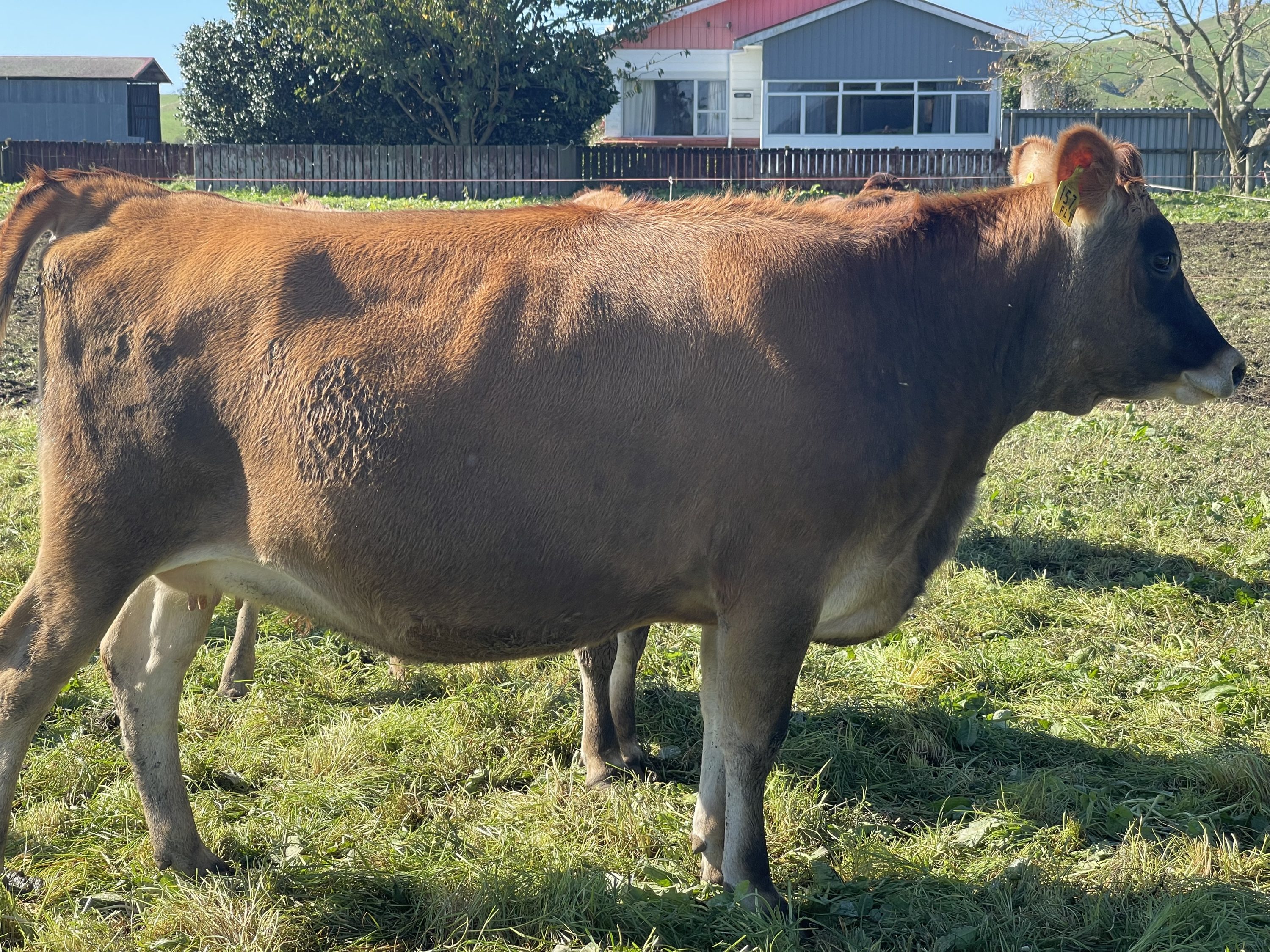 Record-breaking Susie was sired by Tironui Superman ET, one of the bulls chosen from a trusted stud (Murray Gibb, Taupiri). Superman was heavily used at Posterity, with many breeders getting their first Superman calves though the Posterity sale. Anecdotally, Dick has heard that Superman semen sales increased significantly following the sale success of his daughter Susie, and indeed Superman won the Jersey Premier Sires Bull of the Year for 2022 at the recent LIC Premier Sires Awards based on inseminations.
Dick & Faye were happy to go with an online auction both in 2022 and 2023 after selling another Jersey herd about 30 years ago in the paddock. They were disappointed when that herd was mated to Holstein-Friesian, and believe that selling by auction helps get their genetics into more herds, and they were also more likely to be purchased by breeders and subsequently herd tested on different farms. They see online auctions as extending the buyers pool also. Over the years, they have been regular vendors in the Jersey Pride sales. Dick & Faye have had 10 Posterity bulls purchased by AB Companies, mostly CRV and Liberty. The most recent Posterity Banff Desire is a Jersey Future bull marketed in the 2021 Jersey Future catalogue.
321205 POSTERITY BANFF DESIRE
317501 POSTERITY DIESEL RADIUM
311514 POSTERITY GOLD STRIKE
311801 POSTERITY LRGT STARDUST
312803 POSTERITY OLM ARORED
65562 POSTERITY RASTUS ET
308817 POSTERITY STANZ DAVIT S3J
317803 POSTERITY SUPER RUPERT
317804 POSTERITY SUPERVISION
314805 POSTERITY ZELO BRYAN S3J ET
Dick intends to continue enjoying his 'back paddock' on the farm for a few more years yet & keeping up with the upkeep required on the smaller block. Faye just can't wait to get him off farm for a bit, the first stop being some travel in the South Island.