Special Awards 2020
Jersey NZ, the Board, and Members of the Association would like to congratulate the following recipients of the Special Awards presented at our Annual General Meeting – the Verandah, Hamilton.
---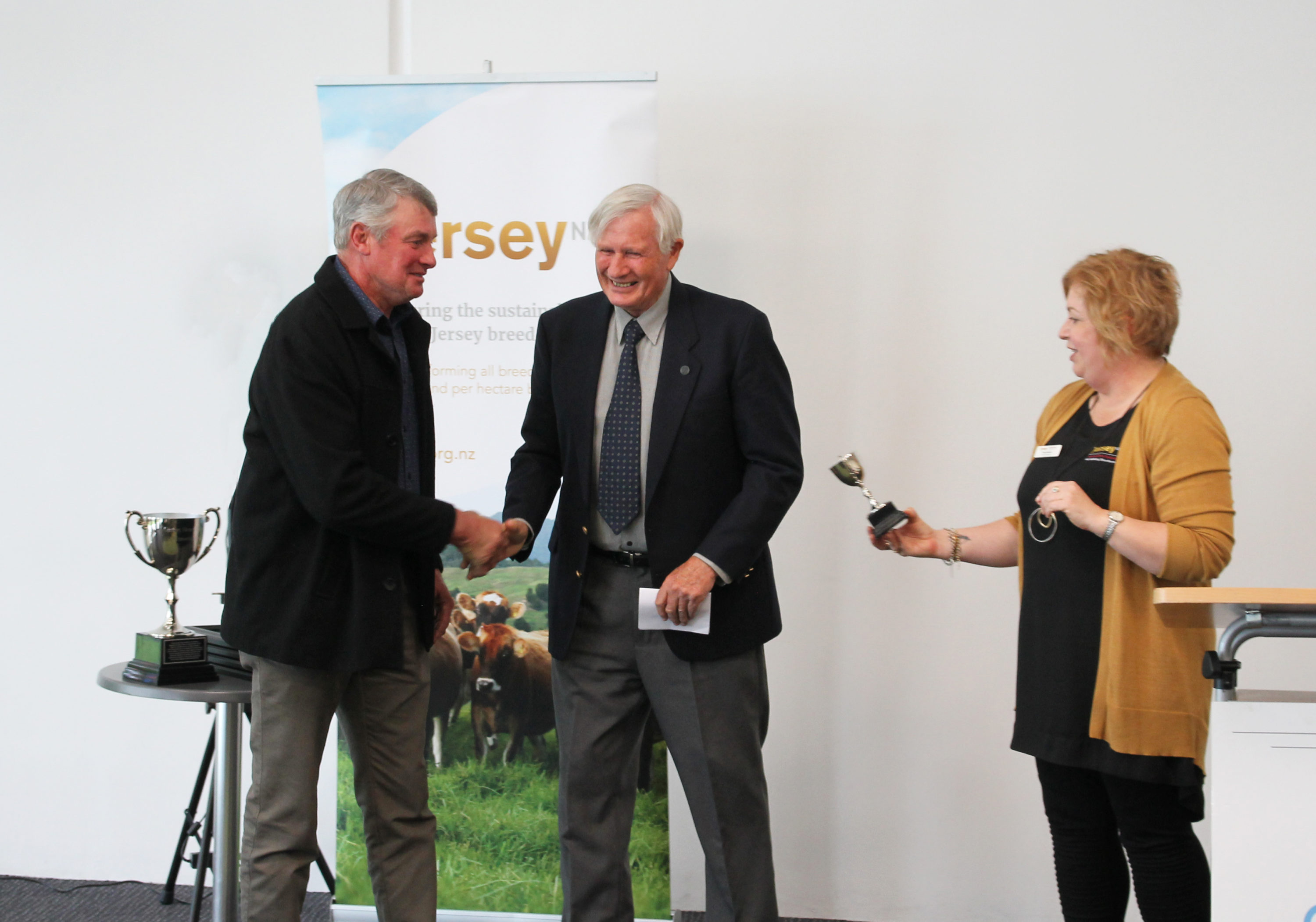 George Henry Dawick Memorial Cup
The inaugural George Henry Dawick Memorial Cup was presented to Warren Ferguson.
During George Henry Dawick's 27yr tenure as Managing Secretary of the New Zealand Jersey Cattle Breeders Association he was a renowned stalwart of the breed and a force to be reckoned with when pursing Jersey excellence. This ethos not only applied to the breed but also encompassed himself, the Association's staff and the membership. An on going vision he saw as paramount to the future of Jersey cattle and especially to the worthy recipient(s) of this Memorial Cup.
The Board of Jersey NZ and the family of George Dawick take great delight in presenting the inaugural George Henry Dawick Memorial Cup to Warren Ferguson.
Warren is married Michelle and they have three sons
Josh who is married to Danica, they have 3 children, Toia, Cody and Aylah.
Corey and partner Sharnah, Maddison is Corey's Daughter.
Ashley and his partner Chantelle who have 8mth old Millie.,
Warren enjoys spending time with the family. He coached the boys at rugby while they were at college and then onto representative coaching at local level. Warren also played senior rugby for a local club for a number of years, he now enjoys watching Josh and his Grandsons playing Rugby.
The Ferdon Jersey Stud was established in 1949 by Warren's father Don. Warren left college at the age of 15 to come and work on the home farm while building up some of his own cows. Warren purchased the farm from his parents 18 years ago. At present Warren and Michelle milk 230 cows on 92 hectares, predominantly Jersey and added to this over the years with Ayrshires and more recently Holsteins have come along.
Showing is in his blood. It's the competing alongside like-minded people and a chance to showcase what Ferdon has. Many show successes and highlights are
Ferdon Sambos Bright Eyes was a great Champion;
Ferdon Comerica Viyella Winning Grand Champion Jersey at NZ Dairy Event for 5 successive years and then winning Supreme in 2012,2015, and 2016,
In 2012 Dam and daughter, Follys Viyella and Comerica Viyella stood Snr Champion and Intermediate at NZDE.
Ferdon Follys Viyella who is a great Matrich of Ferdon and still alive at 16 years has 11 EX daughters, 7 of which are natural calves.
Ferdon Comerica Viyella completes 10 generations of EX cows , certainly an incredible cow family.
Warren is a Jersey and Holstein Friesian Judge. He has Judged around NZ – Palmerston North, Stratford, Dargaville and Christchurch. He has been the Jersey Judge at the NSW State Fair, The Brisbane Royal and in 2012 a highlight was being the Jersey Judge at International Dairy Week (IDW), Australia. His Champion Jersey Cow went on to be Supreme Champion Cow of IDW, this was the first Jersey Cow to win Supreme Champion Cow at IDW. He returned to IDW to Judge the Ayrshires in 2017, again his Intermediate Champion went on to win Supreme Intermediate Cows of IDW.
He was the final Judge in the New Zealand Holstein Friesian Semex on Farm Competition 2016, He was the New Zealand Jersey Semex on Farm competition Judge in 2017. The Ferdon cows have won numerous show awards, On Farm and Photo Competition classes over many years.
Recently he has been invited to Judge the Jersey UK National Show and the Jersey Island Autumn Show but due to covid 19 and travel restrictions this is going to have to wait until 2021.
---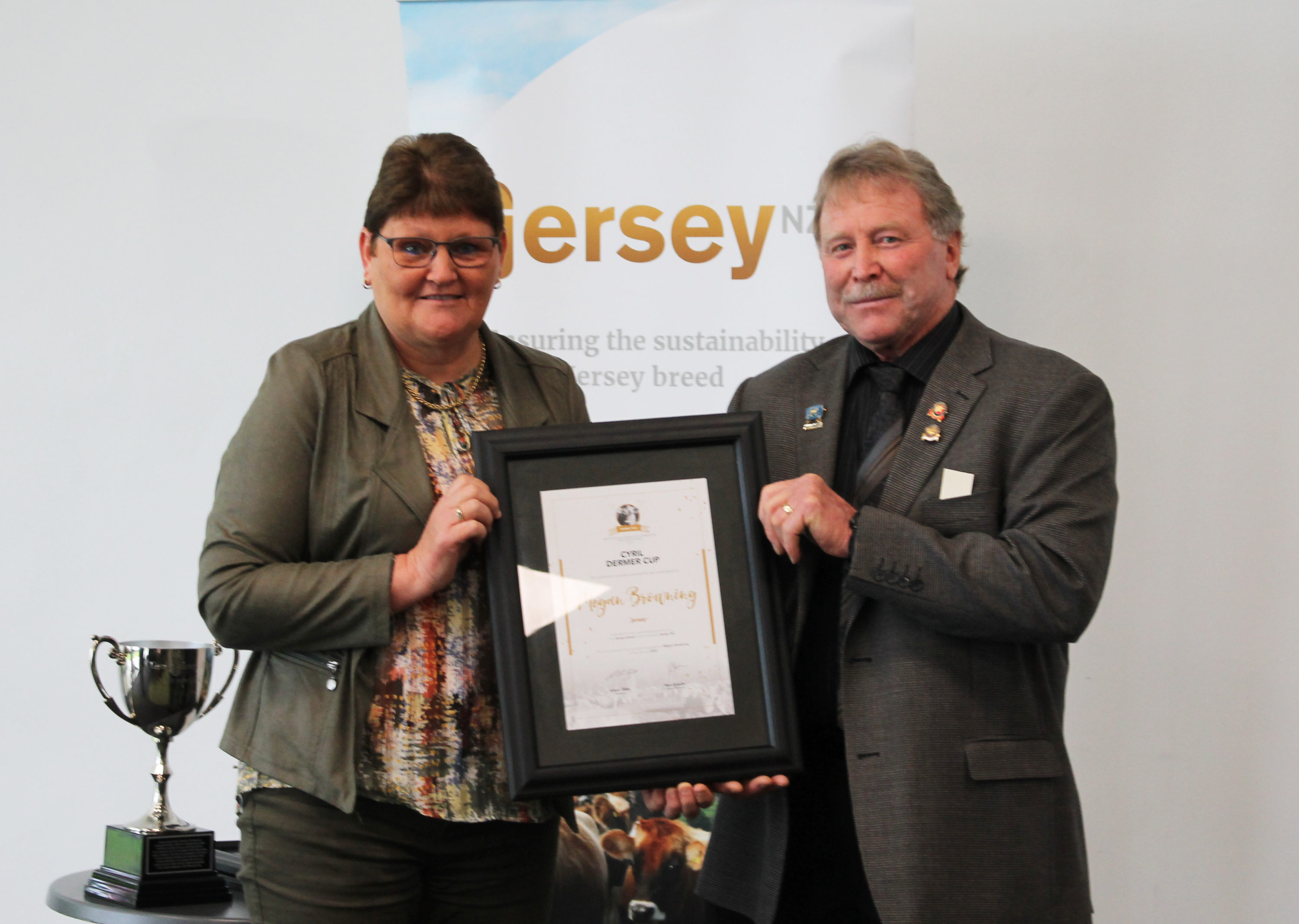 Cyril Dermer Cup
The Cyril Dermer Cup was presented to Megan Browning.
Mrs Megan Browning, husband Trevor, their young family and parents Rex and Margaret Pinny moved north to the farm at Waihue, just north of Dargaville in 1996. Sadly Rex passed away one year later. Margaret's father had registered the Mapiu jersey stud in the King Country when she was a young girl. Rex and Margaret registered the Pine-Lyn and Brownsdale prefix's with an eldest son continuing the Pine-Lyn stud.
With the move to Totardale farm [ so called because of the preponderance of totara growing there ] the family registered the Totaradale Jersey Stud. Son Nick and wife Stefanie are the fourth generation of jersey breeders moving this herd into the modern era and also purchased the Lewis's, Waimata jersey herd seven or eight years ago to increase herd size.
Megan had been a leader and driving force behind the Northern Wairoa Central Calf Club Day for many years. When she stepped aside from this role, subsequent organizers allowed the day to slip away to a point, that it became a non- entity for dairy calves.
Disturbed by this eventuality being allowed to happen, she instigated a calf club day for all breeds, held at the Totaradale property. This small show became well supported and appreciated by both children and parents. Megan sought sponsorship from local business to allow her to present ribbons and prizes to the participating youth. She approached, and received support from the Fonterra Grassroots Fund, this allowing her to continue and enlarge her programme.
The M Bovis outbreak curtailed the on farm show at Totaradale, but Megan continued this venture as an on – farm event, with the Judge or Judges traveling to the many farms. This comprised an area starting south of Kaiwaka to north of Whangarei and East and West across Northland. This club show has become very much a part of the Northern Wairoa Jersey Club scene, with the young participants eagerly awaiting their results and prize ribbons at the annual Christmas barbecue.
Megan and family made calves available for young people, who would not otherwise have been able to access an animal, to experience the calf club scene and gain skills and confidence. This has resulted in one young woman, Danika Beardsall emerging through the ranks and representing Jersey New Zealand at International Dairy Week in Shepparton , Australia. We know how successful this team has been over the last couple of years.
Her efforts have resulted in new memberships for Jersey New Zealand.
She has restarted calf club events at the Northern Wairoa A@P Show and is pursuing this programme this coming year with an even greater emphasis on youth participation.
Megan's passion and commitment has resulted in her own grand children acquiring a love for the jersey breed, that will, in all probability see a fifth generation of jersey breeders at Totaradale.
It is with pleasure that the Board of Jersey New Zealand present the Cyril Dermer Trophy, for outstanding services to the Jersey Breed and Jersey Association in activities in the past twelve months to Megan Browning.
---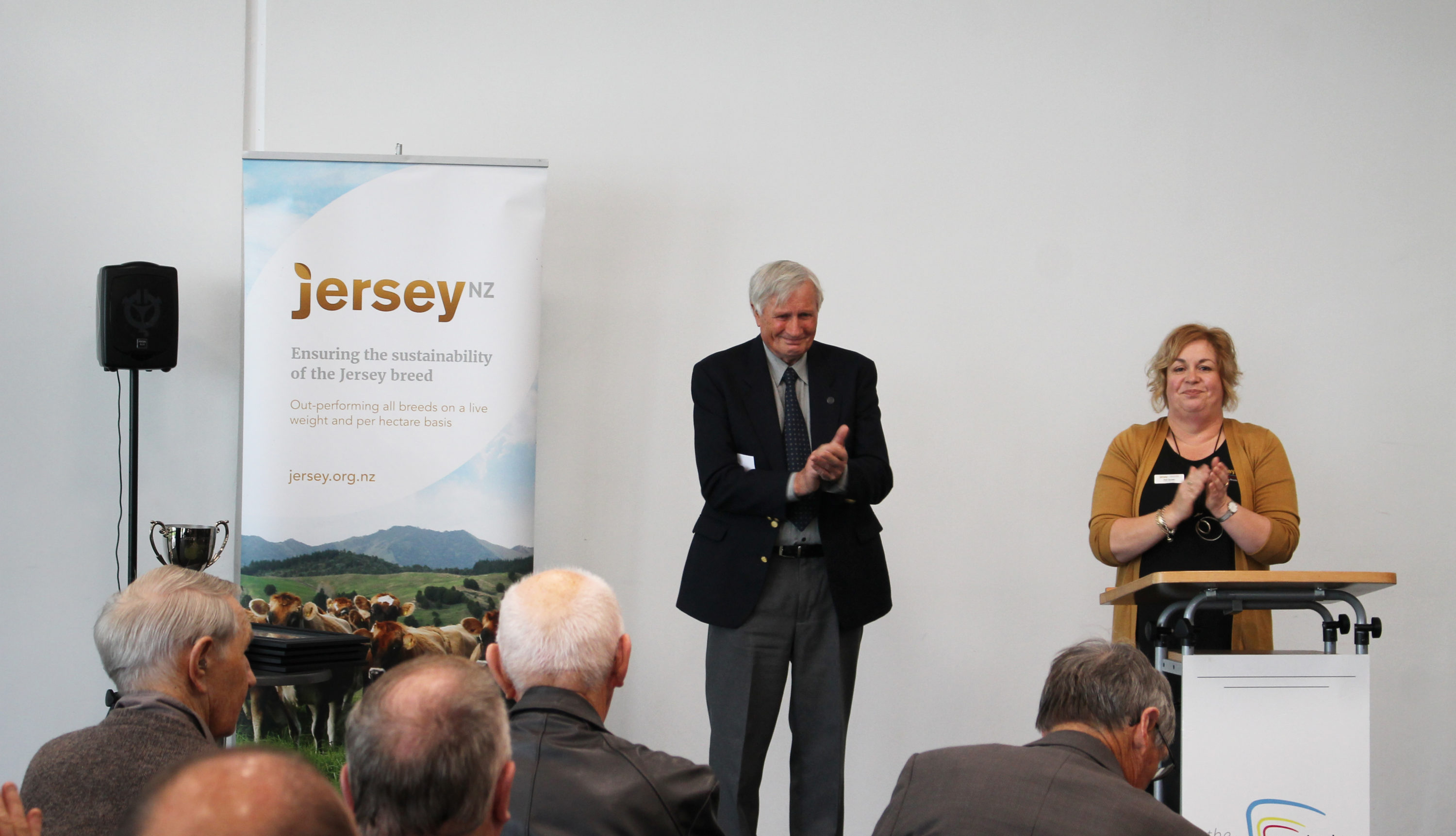 Distinguished Member Award
A Distinguished Member Award was presented to Kelvin Tosland.
The Hawera Jersey Club takes great pleasure in nominating Kelvin Tosland for the Distinguished Members award.
Kelvin is a Life member and long time secretary of our Hawera Jersey Club.
Kelvin was born to be a pedigree Jersey breeder, not only growing up at his parents, Alex and Gloria Tosland's Lexland Jersey Stud but both sets of Grandparents also had the Palm Grove and Atea Jersey studs. Pedigree Jersey breeding is in his DNA and its no wonder that all of his siblings are also pedigree Jersey breeders. Kelvin registered his first calf, Kelland Dawn with the NZJCBA in 1973 when he was 15.
Kelvin moved through the sharemilking ranks to end up on his Omuturangi Road farm with his Kelland Jersey herd. Kelvin has always strived to breed outstanding cows for the dairy industry and this has culminated in the breeding of Kelland KC Speedway, one of the great Jersey sires of the breed in New Zealand in recent years. Speedway already has 36,000 tested daughters in New Zealand. The royalties Kelvin receives from Speedway sales are just a reward for the many years of breeding Kelvin has put into his herd.
Kelvin has often shown his cows at the Egmont A&P Show with good results and also shows at the Hawera Jersey Club shows with his stock always in the money. In particular Kelvin was delighted to win Champion cow at the 2017 Club Show with Kelland Pioneer Riana.
Kelvin is a tireless worker for the Hawera Jersey club and as well as organising many club events he has put a group of his cows up for the much enjoyed judging contests at our Club Show and annual heifer day. Kelvin always manages to get great sponsorship for our events and
his work is very much appreciated by the rest of the Club. So much so that we will be happy if he does the job for life. Nothing is ever too much trouble for Kelvin when it comes to the Jersey Club.

Kelvin was a founding shareholder in the AI company Liberty Genetics and received a very welcome return on his investment when Liberty was sold to CRV a few years ago.
One of Kelvin's yearly highlights has been attending the Jersey New Zealand annual conferences and he has been to just about every conference in the last forty years travelling to every part of New Zealand. Kelvin also organised the Classification tours for Jersey New Zealand in Taranaki which included all the sire proving herds as well as the Jersey breeders herds and was a very big job.
It is our honour to nominate Kelvin for this award.
---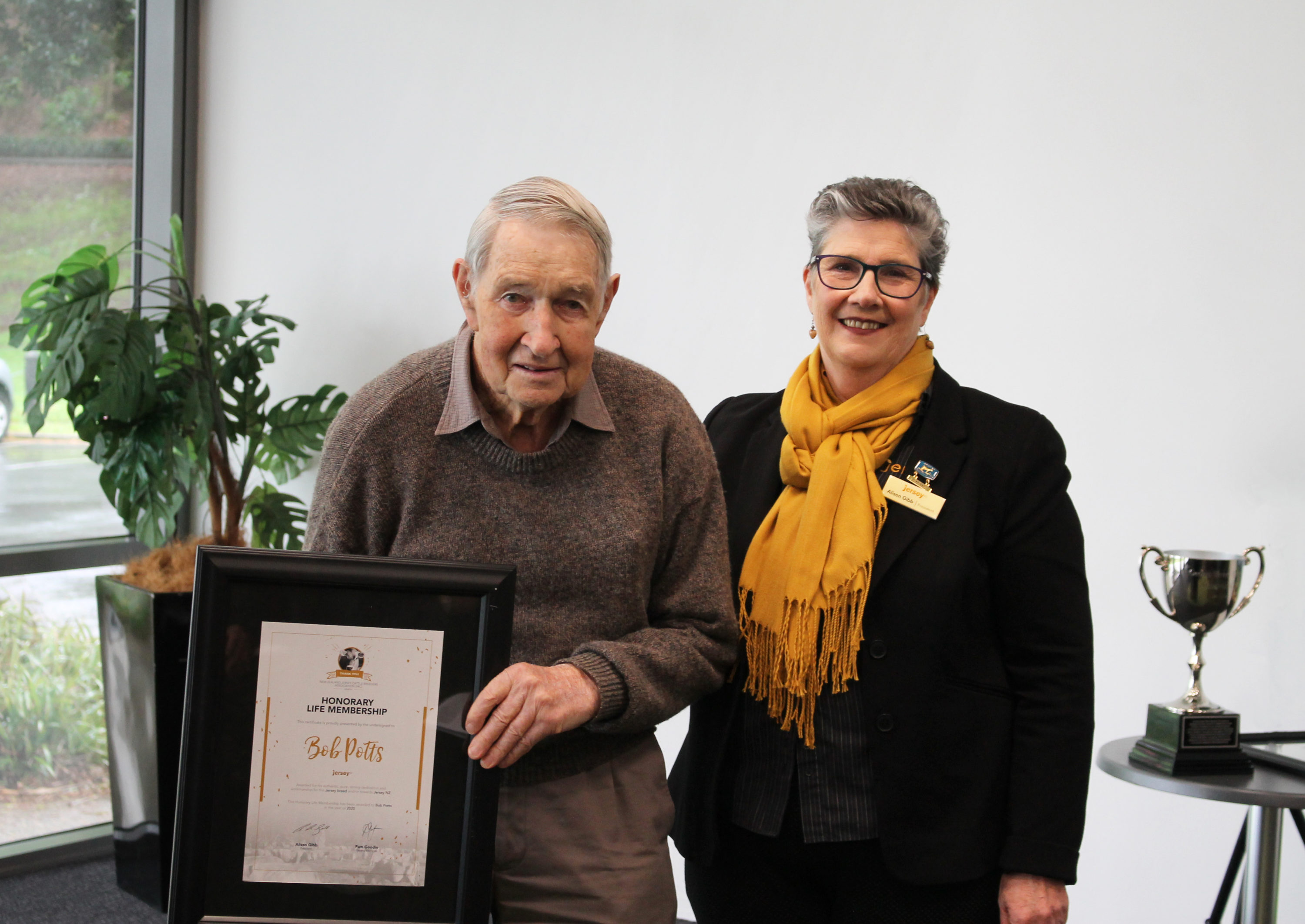 Honorary Life Membership
An Honorary Life Membership was awarded to Bob Potts.
In 1947 the Cairntoul prefix was registered and Bott Potts began his journey with the Jersey breed.
The farm was situated on Ngaroto Road, Te Awamutu and together with Jeanette they farmed there until their retirement, handing over the reigns to their son David who has continued the Cairntoul stud.
Not long after registering his herd, Bob joined the Te Awamutu Jersey Cattle Club and over the years has served on the committee and filled the role of President for two years. Bob, to this day is a very active member of the club and is involved in every activity – a contribution spanning more than 70 years. "Mr Bob" as he is affectionately known as in the club was awarded Te Awamutu Club's Life Membership in 1987 and, became Club Patron in 1996.
Bob was appointed to a young sire selection committee in the 1980's which saw him travelling many miles with other committee members, selecting young bulls for the sire proving scheme run by Jersey New Zealand. Around this time Bob purchased a bull, registered as Konui Glen Sams Conquest from friend and fellow Te Awamutu breeder Wally Kerr . This bull did an outstanding job in the Cairntoul herd and was subsequently marketed , by Ambreed for widespread service. Many members gained from this bulls genetics. Over the years Bob has been a regular attendee at the JerseyNZ AGM and conference, where his well – considered, thoughtful contribution to discussion and debate , has been well received. At a time when Councillor Expenses Reports had become somewhat of a headache, often taking up considerable meeting time at the AGM's, Bob who was appointed to the committee, sorted out the problem it had become and turned it into a straightforward report which continues today. In 1992 he received the Distinguished Members award.
Bob's enthusiasm and dedication to the Jersey Breed is evident. Bob and Jeanette have participated in a number of World Jersey Bureau Conferences and together they never miss the JerseyNZ annual conferences; although Bob did try and have a short break from the Taranaki conference when he took a wee ride in the ambulance. Bob and his cohorts from the "last of the Summer Wine" can be seen at Dairy Event and sales throughout the country. He is a consummate gentleman, interested in people, takes a keen interest in young breeders who, in turn, enjoy talking to him, enjoys a whiskey with fellow breeders and although has recently celebrated a significant birthday, continues to be a strong advocate of the breed.
The board of Jersey NZ have great pleasure in nominating Mr Bob Potts the Honorary Life Member award.